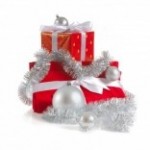 If the approach of the holiday season causes you more financial stress than joy, getting (and keeping) control of your spending may help. When you know how much you have to spend, keep track of your purchases and plan ahead, you can focus more on finding the right gift for each person on your list – and hopefully cut out some stress at the same time. Consider these ideas for surviving – and enjoying—this gift-giving season:
1. Actually have a budget: If you don't know how much you have to spend, you could get a nasty surprise when you start perusing your shopping list. Take a look at your monthly budget and decide how much money you have to spend for holiday gifts. Include any money you plan on withdrawing from a holiday club bank account, or that you have earned and earmarked for gifts. Once you know how much cash you have over all to spend, you'll be able to plan out your purchases, without the risk of running way over your budget.

2. Use cash: If you are concerned about accidently blowing your budget by using a credit—or even a debit card, bring cash instead.  Most people automatically spend less money when they have to hand over actual bills instead of plastic, no matter what the purchase. Whether there is just something more "real" about parting with actual money, or using a credit card causes the buyer to splurge a bit, the end result is the same, so leave the plastic at home and save. Really want to manage the cash? Consider an envelope system, and put the amount you plan on spending on each gift into a separate envelope…if you don't have it, you can't spend it.
3. Track your spending: Once you've gotten a handle on how much you have to spend, and have actually started shopping for gifts, keeping track of your expenditures will help you plan out your purchases. It's easy to overlook the little things—an inexpensive bauble or Christmas tree ornament isn't a big deal, until you forget to add the six you purchased for teacher gifts into your budget.  There's an app for that – if you have an iPad or smartphone, use the technology to track your holiday purchases and keep your progress at your fingertips, literally.
4. Focus on creative giving: Giving a great gift is about more than money. In many cases, you can come up with the ideal gift for someone special, without spending a lot of cash. Consider buying something small but meaningful – like a Harry Potter wand and bookmark for your nephew who loves the series. You'll spend less than $10, but you'll give a memorable gift he'll love.
Magazine subscriptions
can be found inexpensively at this time of year, and there is a magazine or two for just about every interest. You can cover everyone from the quilter to the sports nut with magazines, and they'll get a gift in the mailbox every month of the year.
5. Use your talents and your time: Share your time and talents this holiday season, and you'll be able to give gifts that mean a lot—but don't cost a lot. Whether you use your knitting skills to whip up a warm wool scarf, or prepare a few simple freezer meals for the new parents on your Christmas list, you'll be able to give a lot, without spending a lot.
6. Start early: The earlier you begin the process, the longer you will have to shop. A longer shopping period means good things for your budget—you'll have time to wait for sales, and time to make instead of buy.
If you spot an ideal gift for someone on your list, and the price is right, pick it up, no matter what time of year it is. Different items traditionally go on sale at different times of year—so stock up and save. As long as you have the storage space (even a closet shelf will do), you can buy in advance and save. Start shopping for next Christmas on December 26th, and you'll be able to take advantage of post-holiday sales on both gifts and gift wrap, and you'll be able to cruise through the holiday season, stress free next year.