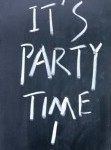 Most of us can't afford to go to the extremes of "real housewife" Taylor from Orange County when it comes to throwing lavish birthday parties for our kids, and neither do we enjoy a corporate budget to pay for an evening soiree. But just because you're working with an extremely limited budget doesn't mean you can't go all out for your upcoming celebration. There are plenty of ways to save on the regular party fare, and if you want to go nuts with a bash that none of the attendees are likely to forget, a little creativity and a lot of elbow grease are going to be your budget-friendly strategy. Here are just a few suggestions to help you get started and save along the way.
The simple truth of the matter is that when you're looking to save money you're likely going to have to sub in time and effort instead. Don't want to pay for a catering company? You'll just have to make the food yourself. Can't afford professional entertainers? You'd better warm up your vocal cords or learn to juggle. Okay, that might be a bit extreme. But when you're looking to cut costs at every turn you're certainly going to have to come up with some creative solutions that will help to keep you from overspending. Luckily, there are options that will allow you to save both time and money.

Food, for example, is often a major expense. The simple answer is to throw a potluck-style shindig so that both the cost and effort involved in feeding everyone gets spread out amongst attendees. You'll get a wide variety of dishes and everyone will get plenty to eat (and potentially even leftovers to take home). Of course, some parties may not allow for this type of friendly camaraderie. In this case, you can still save yourself time and trouble where prep is concerned by setting up some kind of food bar where people create their own, personal concoctions. This can work with cocktails, sundaes, or even main dishes like tacos. You'll have to do some preparation, but you'll get plenty of bang for your buck when you make the food line part of the entertainment.
Décor is another area where you can do a lot on your own. For example, you might string up paper lanterns with bulbs inside for mood lighting (they're not too pricy and they're entirely reusable). And if you happen to be crafty you can go to town creating chic flowers from recycled paper (magazines, junk mail, etc.) instead of shelling out the cash to adorn your space with the real deal. You might also rearrange furnishings to create a dance floor in your home and hang long streamers from the ceiling to make a paper jungle for guests to wade through. The sky is the limit when it comes to decorating your party space, so use your imagination!
As for entertainment, why not make your guests sing for their supper? If you can't afford a band, rent a karaoke machine and supply the sake shots that will have attendees lining up to entertain the crowd. You might ask a particularly skilled friend to kick things off with a few lively numbers, but the "click here" mentality that permeates our modern society should be enough to have guests leaping on the stage before long. As an alternative, you might also contact your local high school or college music department to see about a low-priced, amateur group of choir, orchestra, or band students willing to work your gathering.