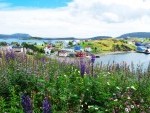 First of all, getting to Newfoundland is not cheap.  You either have to fly to the island, or take a ferry to either Port Aux Basques on the western side of the island or Argentia on the Avalon Peninsula.  Depending on the number of people in your party it may be cheaper to fly.

If you do opt for the ferry, make sure to bring your own snacks and pack a bagged lunch for your meals.  Bring your own beverages, too.  You will save a ton of money by doing so as the prices on the ferry are incredibly expensive.  The ferry also provides a cabin for sleeping for an added cost.  We didn't opt for the cabin as it was too pricy, but the seats are comfortable enough and you can lie down so the cabins are not necessary.
If you decide to fly, be sure to take into account the cost for renting a car.  After pricing out the difference between taking the ferry and flying, make sure to consider all factors.  Flying definitely will save you time, but make sure it also saves you enough money to make it worthwhile.
We drove to North Sydney, Nova Scotia and took the ferry to Argentia as we had only one week to travel and we decided to stay on the Avalon Peninsula.  We took our car on the ferry so we didn't have to worry about renting a car.  Getting there was by far the biggest expense of our trip.
Once we were on the Avalon Peninsula, however, we managed to spend less than $500 for the entire week!  We tented every night, and in Newfoundland you can camp for free in many locations.  As long as it is public land you can get away with pitching your tent just about anywhere.  Just ask the local people where you are allowed to camp and they will be happy to point you in the right direction.
Newfoundlanders are unbelievably hospitable and generous.  You will get the best local information from them, and be sure to take some time to get to know some of the folks in the fishing villages as they are charming and splendid people.
We went in July and the weather was fabulous with the exception of one incredible Atlantic storm that was trying to take apart our tent.  Whale watching is an excellent past time and doesn't cost you a cent.  Rather than spending money on taking a whale watching boat tour, just find a spot along the East Coast of the Avalon Peninsula and you will see humpback whales, orcas, dolphins, etc.  We had exceptionally good view of the whales from Caplin Cove.  We could even hear the humpbacks from our tent at night!  You can also spot whales from the most easterly point in North America called Cape Spear.  There is no cost for parking or visiting these places so entertainment in Newfoundland is incredibly cheap!
If you are a bird lover, you need to visit Cape St. Mary's Ecological Reserve where you will see thousands of gannets, a beautiful large bird with a golden head.  There are also other kinds of birds there and the views of the oceans and cliffs are out of this world.  Again, there is no charge for either parking or visiting.
We especially enjoyed visiting a cute little fishing village called Bay De Verde.  We met some lovely local folks at the Heritage House and along the shore where we had a picnic and watched whales.  Almost every village has a Heritage House, where for a small fee you get a tour and catch a glimpse from the past.  The Bay De Verde Heritage House is extra special, however, as you can actually touch the artifacts, which makes the tour very unique.
If you enjoy history, love nature, and are interested in meeting wonderful people, Newfoundland is definitely the place to go!  Camping is by far the cheapest way to travel in Newfoundland and your entertainment is basically free if you enjoy nature.  Of all the places we have visited so far, Newfoundland has been the very best, and we plan to go back again to see the rest of the island some day.  So for your next summer vacation, consider Newfoundland.