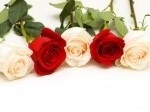 There are so many ways to save money for your big day.  You don't have to spend thousands upon thousands of dollars in order to make your wedding day special.  In fact, with the help of family and friends, you can have a nice wedding for much less than you might expect.
When my husband and I got married we didn't have very much money to work with.  We both were in agreement that we were not willing to go into debt in order to pay for our wedding.  In fact, the idea never even crossed our minds.  To us, our life afterwards was much more important than our wedding day.

We saved money in a variety of ways.  First, we recruited friends and family members to help out.  A friend from church did our photography.  All we had to was provide the film.  Another couple of friends videoed our ceremony and one friend made a beautiful wedding video for us free of charge.
We used decorations borrowed from a church and from friends.  I bought some decorations at a few dollar stores, but almost everything else was borrowed.
My flowers were put together through a connection with a friend who worked out of her home.   As a result, I got a really good deal on all my floral arrangements.
I set a budget for my dress before I went shopping.  I wasn't willing to budge on how much I would spend.  As a result, I thankfully found a dress I really liked within my price range, not even bothering to try on dresses above my price range.
We had a small wedding party with two bridesmaids and two groomsmen.  It made the most sense to keep our wedding party small in line with our simple wedding style.  We didn't have a ring bearer or a flower girl.  We preferred to keep things as simple as possible.
We made our own invitations using a friend's computer software and designed our own wedding pamphlet rather than hiring someone else to do it.
I bought flip flops to wear with my dress.  You couldn't see my feet most of the time anyway!  Besides, I am not a girl who can walk gracefully in high heels.  The last thing I wanted to do was fall flat on my face on my wedding day!
Due to limited resources, we decided to have two receptions: one that included a snack for everyone to take part in, the other exclusively for immediate family, close friends, and for those who travelled long distances to attend our wedding.  Although we would have liked to have everyone attend our dinner reception, we really couldn't afford to do so for all of our guests. We chose a buffet style meal that also included dessert.  We found that it was a better deal than ordering everything separately.
As you can see, we found a lot of ways to save money for our wedding.  Without the help of our family and friends, however, we would never have been able to pull this off.  We felt very blessed to be surrounded by people who were willing to contribute their time and resources to make our day special.
If you are planning your wedding day, don't let yourself get too overwhelmed.  Consider asking friends and family members for help and don't feel like you have to hire a professional to do everything.  Although your wedding day is important, what's even more important is your future life together as a couple.  Don't go into huge amounts of debt in order to pay for a single day of your life.  The last thing you need when you're first starting out as a married couple is a whole lot of financial stress.