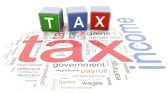 It's that time of year again, so rather than waiting until the last minute, I recommend gathering up your documents earlier this year and beat the rush.  It's not going to be too painful, I promise.  Here are some of the things you don't want to forget about:
1.  Medical Expenses – make sure you gather together all of your medical receipts throughout the year and don't forget that you can medical mileage and meals, too, so it's a really good idea to write up a log of your medical travel.  If you paid premiums on a private benefit plan not covered by your employee, that too can be claimed.

2.  Charitable Donations – Keep all of your donation receipts, make sure they are all for the current year, and make sure none are missing.  If you keep a record of donations made throughout the year, use that list to cross reference with your receipts.  You don't want to miss one.
3.  Children's Fitness Credits – If you have kids, bundle together the receipts for their recreational activities including sports, swimming lessons, etc.  Any of your children 16 and under qualify.  You can also claim receipts for arts activities for your children.  Don't forget anything as these credits can save you a lot of money.
4. RRSP Contribution Receipts – Did you make any RRSP contributions this year?  If so, look out for these receipts that will be sent to you from your financial institution.  Some of them will be later than others, so make sure you have all of your contributions accounted for before you do your taxes.
5.  Last Year's Notice of Assessment – It's always a good idea to have a copy of your prior year's NOA available to give your tax preparer.  They will reference this and if you forget to bring it the first time, they will most likely be asking you for it.
Tax preparation can be tricky.  There are lots of little odds and ends that you need to be aware of.  That is why I recommend that you hire a professional to do your income tax preparation for you.  To save them time (and to save you money), make sure to give your preparer all the documents the first time, and have things organized neatly by category so that it doesn't take the preparer a lot of time to sort through everything.
This article is by no means an exhaustive list of things to bring to your preparer, especially because we all have a different scenario and we'll all need to bring things that satisfy our own unique situation.  But the above five things apply to most people.