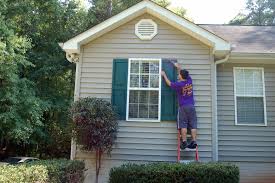 First impressions are very important, especially when it comes to selling your home. Potential buyers start to evaluate a property as soon as they pull up to the driveway. If you are selling, you need to put yourself in the buyer's shoes. What will they notice about your home? It can be difficult to critically evaluate your property, so take several pictures of the inside and the outside. Looking at them will help you notice things that may need to be improved.

You can get a great start on improving the exterior of your home simply by making small changes. Cut the grass. Paint the door and the shutters. Add a little bit of greenery to brighten things up. These changes don't cost a lot of money but can make a big difference in your home's appearance. If you really want to catch a buyer's eye, choose bright colors. Change up your mailbox. Dare to be a little different so that you stand out.
Bathroom
Buyers pay a lot of attention to the bathroom. If it is messy or dirty, they may turn away and walk right out the door.
Therefore, it is important to get the bathroom as clean as possible. Don't forget about the tiles and the grouting, either. If you can't get an element of the bathroom clean, you should put some money into replacing it.
If there are parts of the bathroom that are dated, think about how you can modernize them. Even small things, like the soap dish, should be aesthetically pleasing. If you're going big, then indoor waterfalls for the home can fit well in here.
When you are done, you may not even be able to recognize the bathroom!
Outdoor Space
If you have a garden on your property, it can improve your resale value. Beyond that, it just looks nice.
Putting a little money into your garden is a good investment. Usable outdoor space makes a property seem bigger than it really is. Gardens also help buyers picture themselves living on the property. If you want to do it right, set up zones for your garden. Add in different materials and alter the scale to create visual appeal.
A deck is another good investment. It extends the home's living space and ultimately makes it worth more.
If you don't have the budget to do an entire overhaul of your backyard, there are a few things you should focus on. Get rid of any dead plants. Pull weeds and fix anything that is in disrepair. If you have overgrown shrubbery, trim it back. You can even create a design with the shrubbery if you would like. Also, add in a few plants to make the colors in your space more diverse.
Planters are also a good purchase. They help make your space more green, but they are portable, so you can bring them to your new location when you move.
Final Thoughts
 If you want someone to buy your house, a little bit goes a long way according to Evolution Properties. Consider who might buy your home. Think about what they need from the property. For example, if you feel a young family might move in, arrange your furniture to create the illusion of space.
Make sure the home is ready when someone walks through as well. You don't want the property to smell bad; some freshly baked cookies might help.