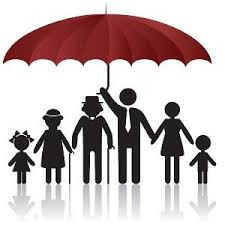 If you're a parent or a homeowner, you drive a car, or you're trying to plan ahead for the future, you should never underestimate the importance of insurance. Insurance policies are a means of protecting yourself, your loved ones, and your assets. If you don't already have these forms of cover in place, it's a good idea to start shopping around for the best deals.
Home insurance
If you're a homeowner, it's incredibly risky not to have insurance. Home insurance plans offer protection against damage to your property, which may be caused by adverse weather conditions or thieves, for example. The price you pay for a policy will often depend on the value of your home, where you live, and the level of coverage. The more comprehensive the policy, the higher the premium. If you live in an area prone to flooding or storms, you may find it beneficial to add extra coverage for flood or hurricane damage.

If you're renting a home, it's wise to take out contents insurance. Rather than protecting against damage to the interior or exterior of the home, contents insurance covers your possessions. If you have jewelry stolen, for example, you could make a claim on your insurance.
Health and dental insurance
Health should be a priority for every member of the family. If you have children, you can tailor your search to look for policies that cover your children as well as you. It's worth doing some extensive research before you choose a plan. Think about the services you may use frequently or those you would like to have access to. Some policies will cover dental health and eye care. There is also the option of individual dental plans. You can use the Internet to find dental insurance plans and compare prices.
Life insurance
If you have children or a partner, you own a business, or you have taken out loans or other financial products, it's worth looking into life insurance. Life insurance provides a payout for your family if you pass away. This sum could be used to cover debts, pay for a funeral and provide for the future. None of us like to think about dying, but taking out insurance will give you peace of mind that your family will be financially covered if anything does happen to you. Some policies also include critical illness cover, which insures against a host of serious illnesses.
Car insurance
If you own a car, a motorbike or a van, you'll need suitable vehicle insurance. Insurance will cover you if your vehicle is damaged in an accident or stolen. You can take out different levels of cover, and usually, it's best to opt for comprehensive policies.
It's always beneficial to have one foot in the future. Protecting your family and your assets will give you peace of mind, and help to avoid unwanted and unexpected costs in the future. If you don't already have these insurance policies, it's well worth taking a little time to make some calls and compare prices and providers online.