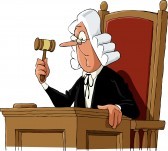 In most cases it is not wise to handle your own legal matters. Is it legal? Yes, handling your own legal matter is completely legal. In fact, "in pro per" is a common term in legalese that means someone is representing themselves in their own legal matters. However, depending on the size of the lawsuit and whether it is a criminal or civil case, it can be quite disastrous if someone doesn't have the knowledge to "represent" themselves. If you are the defendant in a legal case you can increase your chances of losing your freedom and basic liberties by going to jail, and in a civil court you could easily lose a lot of money.
For one, law documents are complicated. There is a reason why lawyers need to go to school for multiple years and study for extremely hard tests to pass their bar in order to legally practice law in a particular state. When you represent yourself, it is usually up to you to file all the documents to make the case legitimate. In a civil case there can be multiple documents to file with the court if you are the plaintiff. If you are the defendant you will need to be aware of all the terms and agreements so that you know what your rights are in a civil court. If you don't you could be going completely blind against a plaintiff who could have a very knowledgeable and adept lawyer by their side.

In a criminal court, if you are a defendant in a criminal case and you decide to represent yourself, unless you know the codes of conduct in a court and have an expansive knowledge of the penal laws, you most likely won't know what you are doing and you could very well lose your case. In a civil case you won't have a fighting chance if you are the plaintiff and are up against a major corporation. Chances are that they have an entire army of very experienced lawyers by their side. If you have slipped at work or have fallen at a public place or business in the Florida Panhandle, it might be wise to search "personal injury law firm the Villages" to find the right legal assistance. The same thing goes if you are filing a suit in any other part of the country.
Lastly, it typically isn't very smart for someone to represent himself or herself in a civil or criminal court, especially if they have no experience. No television show and no amount of research online can prepare an individual for the complexities of the law. Moreover, a courtroom can be full of obscure and hard to understand legalese. A lawyer will not only help defend someone and fight to tell their side of their story, but they will also help either the defendant or the plaintiff in wading through what is considered a very complicated legal system. If you find yourself in the need of consul, it is recommended to seek professional help and not to represent yourself.