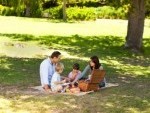 While we're always looking for ways to cut costs and make the most of our finances, you should never have to cut down on family time, and without spending a lot of money you can ensure a healthy, happy and united family – which is something that has no price tag. The New Kids Center highlights the importance of family as the single most influencing factor in our children's lives and our kids should always know that in times of trouble they can count on us for all their needs. Below are six simple and cost-effective ways to keep your family united:
Communication is key and – most importantly – FREE – So be sure to really talk to your kids when they come home from school or you get back from work. Put your day on pause for a moment to listen to what your loved ones have been up to. If your kids have gone to college, or live far away, then make sure that everyone in your family has a Skype account. There are also many free applications for your cellular phone that you can use to speak with camera as well, which makes people feel closer. Not only will you save on the cost of a phone call, but you'll be able to connect at all times and actually see each other face-to-face. Make sure that everyone is on the same mobile phone carrier as well, to benefit from free or reduced price phone calls.
Create a blog or family website – Blogs and family websites can be a fun way to share your life and your children's latest achievements with all family members. If everyone takes turn to update the blog, then you can make it a family activity, not just uniting your loved ones far away, but also your kids that are close to you. The majority of these sites are free or require very little investment and allow you to connect with your family without any unwanted strangers snooping on you.
Reunite the whole family – Maybe you haven't spoken to your uncle in a while, or perhaps you haven't been in touch with your cousins for a long time. Making sure you see all your relatives can be expensive and demanding on time. Think about using family reunion websites that everyone can contribute to and find out what's going on with each other, without having to coordinate everyone calendars and budgets.
Become savvy travelers – Keep a lookout for cheap deals and discounts, as most airlines have great offers from time to time. Travelocity and Orbitz allow you to register your favorite destinations and will alert you when there are offers available. If you travel regularly, a frequent flyer program can also help keep ticket prices down. Think about visiting cities that aren't major tourist destinations, as small towns have plenty to offer, and are usually cheaper than large cities. If you're planning to visit Louisiana for example, skip New Orleans and try other neat cities in the state.
Use price comparison websites – when you need to buy birthday presents, plan parties, make school costumes, or buy a new SUV, check out the price comparison websites that are available online and let them find the lowest prices for you. Sites such as Price Grabber and Shopzilla can help you save tons of dollars on many items.
Read together and arrange movie or games nights – establishing an activity, or several family activities that you can all do together is not just an excellent way of bonding with your kids, but is also inexpensive, or even free.
Above all, always keep in mind, there's no greater investment that you can make in life than spending time with your family.
About The Author
Michael Peggs is the founder of Marccx Media, a digital marketing agency specializing in SEO and Content Marketing. Before Marcxx, Peggs worked at Google in business development, forming digital media and advertising partnerships. He is also a blogger and podcaster, hosting the iTunes Top 10 New & Noteworthy podcast You University – The Personal Branding Podcast.