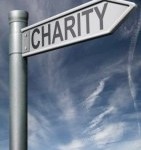 Canadians are generous with more than 88 percent saying they already donate money to charity and 78 percent saying they would likely donate some if they received an unexpected windfall, according to a recent survey by Leger Marketing for H&R Block Canada.
In addition, the majority of Canadians (63% percent) also think they should be able to claim non-money donations on their tax returns. This would include donations of personal property and volunteer hours.

"Canadians have a strong tradition of supporting charities and making donations," says Cleo Hamel, senior tax analyst, H&R Block Canada. "But getting a tax receipt does not seem to be the main driving factor behind giving. In fact, only a third of people surveyed said they always make sure they get a tax receipt when they donate."
The survey showed the top three reasons Canadians donate to charity were:
1.    The donor felt a close connection to the charity
2.    In memory of someone
3.    They get a tax receipt
As for future planning, only one in 10 are planning to leave money to a charity as part of their estate while 44 percent say they are not leaving any money to charity.
Canadians and Charity:
Only three in 10 Canadians said they donate because they read information about a problem or disaster
More men donate to get a tax receipt (34% men versus 28% women)
Men are also more likely to donate because a charity solicited them (21% men versus 15% women)
94% of older Canadians age 65+ were more likely to donate to charity
34% of Canadians think donations of personal property should be considered a claimable charitable donation
Nearly one in five Canadians would not 'Pay it Forward' to charities in the wake of a lottery windfall
The survey was completed online from October 11th, 2011 to October 12th, 2011 using Leger Marketing's online panel, LegerWeb, with a sample of 1528 Canadians 18 years of age or older.
A probability sample of the same size would yield a margin of error of +/- 2.5%, 19 times out of 20.