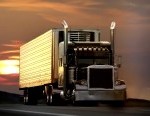 Most people associate truck driving job with grueling work hours and steady pay. Typically, truck drivers are involved in transporting important and mostly expensive cargo. However, the job is not an easy one, nor is it suitable for anyone. The truck driver is also responsible for performing a number of things including basic truck inspection to establish if they are any mechanical issues that may compromise safety. Because of its arduous nature, truckies are required to possess the necessary qualifications and discipline at work and in their finances.
Truck Driving and Financing
Most people associate truck driving job with grueling work hours and steady pay. Typically, truck drivers are involved in transporting important and mostly expensive cargo. However, the truck driving job is not an easy one, nor is it suitable for anyone. This demanding job requires that you sacrifice many hours working away from home. To become a truck driver, you have to attain a certain level of competency which is usually express via attainment of a commercial driver's license offered by an approved authority. The requirements for attaining this professional license include age limit, and a pass in the eligibility test; the test may involve both physical and written examination.

Getting truck financing can be a relatively easy and stress free affair if you follow the proper channels. In most cases, main stream lenders or banks offer the most competitive lending rates; however, most are shy to lend out to risky business unless it is well backed. In order to find low cost truck financing option that is appropriate for your investment; there are a number of critical rules to observe. These includes: finding appropriate truck, determining if you are a good financial manager, setting-up a realistic financing amount, analysing the project viability and ascertaining if you've got enough security in case of problems.
Money saving tips for truck drivers
Just as in other jobs and professions, saving money is very critical to truck driver, especially since it is very easy to rake up high bills while on the road. Some of the expenses incurred by truck drivers include; lodging, food and gasoline expenses among other expenditures. Despite all these challenges saving money for truck drivers is just as easy; the most effective money saving techniques include;
1. Creating a budget: making a budget before going out on a trip can spell the difference between being a successful and an unsuccessful financial manager. You begin this process by collecting some few pay stubs in order to calculate your overall monthly earnings. Doing this will give you an idea of how much you spend every month; after this assessment is done, factor in your needs and wants, and try to be honest in order to come up with an effective cost cutting budget.
2. Sidestepping fast foods: Fast foods are foremost expensive and unhealthy in addition to being present everywhere you go. Even though incurring food cost is necessary, there are number of ways in which such expenses can be put under control. You can do this by preparing your own meals using fresh ingredients and investing some money in a mini-fridge.
3. Be on the lookout for attractive bargains and deals: it is important to always keep an eye out for bargains and deals on essential goods that can save you some money. You can do this when you are stationed at a grocery store, gas station or truck stop. Good deals on various items can also be found via browsing through magazines and newspapers, couponing and asking associates about the presence of existing deals or ongoing specials.
Saving money through career change
Career changes are very commonplace nowadays; individuals can change their career for varying reasons, ranging from job dissatisfaction to going back to school. Whether you are considering becoming a truck driver or an engineer, there are a number of critical decisions to make especially if you want to save money. You may opt for distance education which is in many ways convenient and sophisticated if you are going back to school. Online courses can also save a great deal of money on textbooks and other study materials.
Today's technological innovations have made truck driving a fairly smooth and disciplined career, since trucks can be logistically tracked using real-time satellite tracking systems from a central location. Money saving tips is crucially important for truck drivers since the temptation to spend while on the road is overwhelming. Additionally, the dynamic nature of today's workplace means that people can change careers in order to realize their dreams.
About The Author
Phillip Gruppelaar is the owner of Harley Finance – Australia's largest grey import, truck, equipment and machinery finance broker. Contact him if you have any questions about your grey import finance.