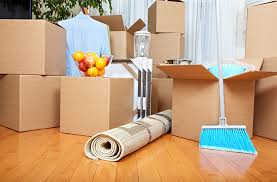 After a lot of legwork, research, and mortgage negotiation, you finally signed the paperwork for your brand new house and the countdown to moving day is almost over. However, if you thought house hunting was stressful, you have no idea what moving day will be like. Moving house is not a walk in the park – in fact it's the most stressful thing anyone can go through – but the expenses involved don't have to cost as much as the house. Here are a few ways you can reduce the costs of moving.

Clear your clutter
Use moving day as an opportunity to get rid of things you no longer need. Whether you sell them on eBay, donate them, or throw them away, each item you clear out is one less thing you have to pack. Make sure you start doing this as soon as possible because nostalgia will do its best to slow down your progress. It will all be worth it when you arrive at your new house less burdened by your possessions.
Collect free moving boxes
Cardboard boxes seems like a huge waste of money when you can easily get them for free. Even if you haven't kept every box you've ever received from a large Amazon delivery, you can always find more boxes from local independent businesses such as liquor stores and grocery shops who will be happy to donate if you ask nicely. They are likely to have lots of spare boxes stacked from deliveries. Ask your friends to save boxes from their next delivery, and you will soon have enough for all your belongings.
Removal van
Moving house when you have a family is different to moving house when you're a student; you definitely can't fit all your belongings in the back of your car. While you can carefully pack some of your more fragile items into your trunk, you're better off hiring a removal company for your sofa, TV, and other bigger items. Check your local listings, or visit https://www.shiply.com/de/autotransporte/ if you're moving across state lines. Shiply can transport heavy items for longer distances, and give you a better rate than most other companies. You might also be able to save more money if you move on a weekday, instead of the weekend. Make sure you compare plenty of prices before settling on the one that best suits your budget.
Inform Your New Providers
At least 48 hours before you move, call the new gas company, electric company, and council to let them know you will be moving house. They will make a note to cut off the service at your current address so you're no longer paying for it, and some of them will offer to set up your service at your new address so you're not without water, electricity and a broadband connection when you move in. Alternatively, you could save money by cancelling your suppliers altogether, and signing up for a free trial period with a new provider.