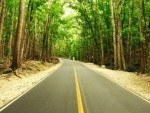 As I mentioned in a previous post, my husband and I are traveling right now, and have been for about the last month and a half.  So far we have driven approximately 12,000 kilometers, and our focus has been to visit various national parks in the southwestern U.S.  Due to nasty weather conditions, we have had to skip some of the parks and have opted to drive the coastline up through California instead.  We have stayed in a hotel/motel 3 times so far on our journey, but most nights we stay in various campgrounds or RV Parks.  We have also spent a few nights sleeping in our car in Walmart parking lots.  We did discover (at 1:30 in the morning), however, that not all Walmarts allow for overnight parking.

We had anticipated that camping and traveling would be cheaper than it actually is.  Unfortunately, some campgrounds charge as much as $35 per night.  We had done a ball park budget for around $20 per night, but certain states, such as California, are pricier than others.  Most state parks in California run at $35 per night and you have to pay extra for showers.  Luckily, in places like Utah we were able to camp for free on BLM land (Bureau of Land Management).
We have also been fortunate enough to find some lower cost campgrounds in California, some for as little as $6 per night.  We use software purchased at Best Buy called Microsoft Streets & Trips which has been invaluable in helping us to find  campgrounds that we would otherwise have never known about.  This software has already saved us a lot of money on our trip.
For the most part we have been buying groceries at various grocery stores along the way, although the odd time we have eaten out either to save time or to escape the rain/As wind/snow.  Yes, we have experienced every type of weather on our trip so far from snow to hail to extreme winds to really hot and cold weather.  Sometimes this can be really challenging since we are tenting.
One thing I know for sure is that it's good that we are doing this while we are still young enough to handle this kind of lifestyle.  As we get older, comfort will be much more important to us.  Although there are days when we are ready to pack up and call it a day, this has been a really amazing experience for us so far.   We have seen many amazing places and met some fascinating people along the way.  I will continue to share about our experiences through updates and various posts about how we have managed to save money during our adventure.