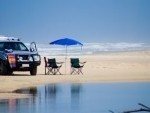 In response to the Summer Road Trip Challenge I posted earlier this month, I wanted to fill you in on how it turned out.
We had a fantastic time visiting several national parks throughout the southwestern U.S.  As planned, we camped along the way, and because we spent most of our time in the desert, we didn't have to deal with a lot of rain.  Instead of rain, we experienced extreme heat with temperatures up to 43 degrees Celsius.
We brought along $2200 and we ended up spending $1030 for our trip.  We also did a bit of shopping and spent $263 on shoes and a few other items.  We were happy to discover that gasoline is quite a bit cheaper in the U.S. than in Canada, and when you are driving more than 8000 kilometers, it makes a huge difference.

Due to really good weather for almost the entire trip, we weren't even tempted to stay in a hotel this time.  We did sleep in the car three times but the rest of the time we camped at park campgrounds.  This saved us a lot of money.  Camping is what makes our vacations affordable.  If we had to pay for hotels every night, we wouldn't be able to go nearly as far or see nearly as many places.  As well, camping is a lot safer than staying in some city hostels.  We went to one hostel during our trip to take a shower, and I was glad that we didn't have to stay there.  Although it may have been even cheaper than our campground, safety is more important than cost.
For the majority of the time, we bought groceries and made our own food, however, a few times we ate out.  We tried to find buffets whenever we ate out as we have discovered that buffets in the U.S. are reasonably priced and it's all you can eat!
To save money at grocery stores, whenever possible I joined memberships or asked for membership prices.  This saved us a few dollars off our grocery bills.  Our road trip breakfasts included instant oatmeal and lots of eggs.  It was easy to make, filling, and inexpensive.  The rest of our menu included stir-fry, fresh vegetables and fruit, and tons of granola bars to keep us going during our hikes.  We tried to eat as healthy as possible so we stayed away from any junk food, with the exception of a few pints of ice cream.  I must admit I ate a fair bit of ice cream to cool down.
Our entertainment costs were very low as most of our adventures were hikes in the national parks.  We did go to one museum that required an admission, but other than that, our entertainment was covered by our national park fees.
It was really great to just get away for a while and we were really glad that we went as far as we did without spending a lot of money.  As they say, "where there's a will, there's a way."