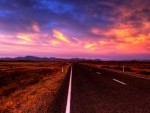 After planning for over a year, my husband and I have begun what he call our "Grand Adventure".  We have taken the plunge and both quit our day jobs.  We sold our home and gave away the majority of our things.  The rest are being stored with friends and family.  We are free to do what we love, at least for a little while, and when we do go back to the norm again, we trust we will be refreshed and ready to take on new challenges.

For now, though, we are traveling through various parts of the United States.  We are driving our car and tenting at various national and state parks, and when we stay in cities, we find RV parks.  In fact, I am writing this from an RV park in California right now.  The sun is shining and the weather is amazing!
We shocked a lot of people when we told them of our unconventional plans.  Not too many people just quit their jobs and sell their home and get rid of the majority of their possessions without having some sort of new job lined up.  But we had talked about doing this for a long time, and we decided that it would be good for us.  We wanted to step out of the so-called rat race for a little while and take some time to reflect on what we want do next while simultaneously enjoying the beauty of nature.
As part of our planning, we put a whole lot of money onto the mortgage of our home.  We wanted to make sure we saved enough to make the Grand Adventure possible.  We had to sacrifice some conveniences and work hard for a long time in order to make this opportunity realistic for us.  I truly believe that any couple without kids could do the same thing if they really wanted to.  It is just a matter of priorities.
Every once in a while I will post updates regarding our Grand Adventure.  I didn't mention a timeframe yet for our trip as that is to be determined.  There are many factors that will affect the length of our time off, and we will have to be diligent in finding jobs and a place to live, but for now, I am looking forward to seeing new places, meeting new people, and thoroughly taking advantage of this time off!