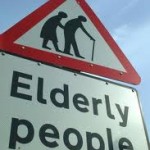 Far too many elderly people have become victims of elder abuse.  Some experience physical or verbal abuse, but the vast majority experience financial abuse.  In fact, 70% of all elder abuse is financial abuse.
Either family members or others closely associated to elderly people often take advantage of them financially.  This is most prominent for elderly folks who are confused easily and find it hard to keep track of their finances on their own.  Many vulnerable elderly people are victims of theft and fraud as a result of a greedy, ill intentioned family member or caregiver.

Although there are many faithful relatives who take care of the elderly people in their lives in an honest manner, unfortunately, not all people who care for an elderly person are trustworthy.  So, if you have someone in your life that is elderly and perhaps vulnerable, here are a few things to look out for:
If you have an elderly family member who you know gets easily confused, suffers memory loss, etc. then pay attention to who is taking care of their finances for them.  Is this person to be trusted?  Are they taking advantage of the situation?  Also, if an elderly person is disabled, or is socially isolated they are more vulnerable to elder abuse.
If you work in a financial institution, watch out for elderly clients who always a family member or helper who accompanies them to the bank.  Is the family member/helper actually helping your client or are they forcing them to do something they don't want to do?  If you have any concerns, talk to your manager as you may be able to inform a trusted family member who can help this elderly client.
Many elderly folks are mentally able to handle their own finances, but not all are that fortunate.  For those who are not, it is important that they have someone trustworthy and who has integrity handle their business for them.  Do your part in ensuring that your elderly family members are in good hands.