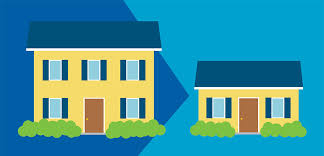 Each year, more and more homeowners are realizing that downsizing could be the answer to all of their problems. Of course, everyone wants a large, luxurious home, but the fact of the matter is that for most of us, it's just not an affordable option. That's why there has been an increase in the amount of homeowners who have chosen to sell up and downsize to smaller houses or apartments.

The fact is that aside from making your finances easier to keep on top of, there are a number of other reasons why downsizing can be beneficial. Whether you are choosing to downsize your home, or for one reason or another your hand has been forced, there are an array of benefits of living in a smaller home.
Want to learn more about the benefits of swapping from a house to a flat and leading a more compact life? If the answer is yes, then read on for everything that you need to know.
It will cost less to run
Energy is expensive; there's no getting away from that, which is why downsizing can be so beneficial. In a smaller home, you will use less energy, which means that your monthly energy bills will be much lower and more affordable. The larger a property is, the more expensive your energy tends to be. By downsizing, you can save money on the cost of your energy and use it to help cover other costs, such as your mortgage or rent payments.
You can save the profit
By downsizing and selling your old home, you should be left with a profit from the sale. You can use this money to add a few little luxuries to your new, smaller home. Have you always dreamed of having underfloor heating or a hot tub bath? Well, perhaps now could be the ideal time to treat yourself? If you are keen to get the ball moving and want to sell your house fast, then you may want to look at your selling options carefully. How about selling to a company rather than to an independent buyer – this will speed the process up and should still mean that you get a fair price for your home. Remember, the sooner you sell up, the sooner you can start saving money.
More location options
The fact is that houses in the city are incredibly expensive to buy (and rent). However, smaller properties like apartments are much more affordable. So if you have always dreamed of living in the heart of your local city, downsizing could be the best thing that you have ever done.
Less likely to end up in debt
Because living in a smaller property is more affordable, you are much less likely to end up in debt. A smaller home will help you to live within your means and stick to your monthly spending budget. For anyone who is trying to reduce their debt or stay out of debt, downsizing can be a great option. The smaller your home, the less you will spend.
Want to be more financially savvy? Then downsizing from a house to a flat could be the answer. Sure, it will take some adjusting too, but the fact is that if it makes your financial situation better, then it's a worthwhile change to make.