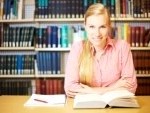 Libraries are fantastic.  They will save you a ton of money if you make use of them.  If you live in a city, there are often several branches so there is sure to be one that is convenient for you.  Libraries often have a website, too, so you can select the items you want and have them ready for you to pick up at your convenience.

Why should I use the library?
The library will save you a lot of money, especially if you like to read a lot.  Rather than buying books brand new, it makes more sense to borrow them.  If it turns out that you love a book and think you will want to read it many times, only then does it make sense to actually buy the book.  But for most books, we just want to read them once, so why bother buying them when you don't have to?
What if I don't like to read books?
Many libraries, especially in cities, have an abundance of other items in addition to books.  They will often have a wide variety of magazines that you can check out.  Many libraries also allow you to check out movies for free, or for a small fee.  Most libraries also allow you to use their computers to access the Internet for a limited amount of time, often for free.  You may have to book a computer in advance, so check your library's website for details.
Libraries are great for entertaining kids!
If you have kids, libraries are a great place to hang out.  Most libraries have a kid section with thousands of children's books and a variety of videos to choose from.  Rather than paying an arm and a leg for books and videos for your kids, take them to the library and let them choose from a huge selection.  Sure, it's okay to buy copies of a few favorites, but your kids don't have to be limited to what you can afford to buy them.  Take advantage of the free resources available at the library.
Libraries can provide the resources to help you jumpstart your education.
I once watched a documentary about a young woman who couldn't afford a college education.  Instead, every day she went to her local library and studied on her own.  As a result of her dedication to learning, she became eligible for a scholarship that allowed her to attend college and pursue her dreams. Libraries are a great place to expand your knowledge and jumpstart your post secondary education.
For these reasons and many more, sign up for a library card and start making use of the resources available to you at your local library.  You will not regret it.