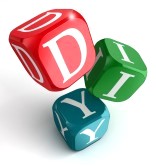 Do you know how to tile floors, reroof a house, paint walls or fix a car? If you do, then you can save a lot of money by doing everything yourself. If you don't know how, then you don't have to hire somebody to do it for you, you can simply learn how to do everything on your own.
What most people don't realize is that people who have to hire a professional will pay more than they should simply because it is a skill that requires some experience. This is where the internet will come in handy.
Tips To Do It Yourself
Watch Videos – The nice thing about the internet is that many people will create a YouTube video on how to do certain things. If you want to know how to rewire a house, then there are people on YouTube that will show you how to do that. If you want to renovate your bathroom, then there will be a step by step video on how you do that as well. All of this stuff can be found on YouTube, so make sure you go there first before you try something you are not sure about.
Practice First – Yes, you need to practice. It doesn't matter what you are doing, you need to give it a try first before you attempt it for real. If you are rebuilding the transmission for your car, then I recommend you attempt it with an older car, not a brand new car that will cost thousands of dollars to fix in the event that you mess things up. Now, if you are texturing a wall, then practice in a closet where nobody will see what you did. I know this sounds weird but the truth is that it will work.

Understand When To Ask For Help – As a do-it-yourselfer you should be able to do most things on your own,  but don't feel bad if you need to ask for help. The nice thing about asking for help is that you did all you could do and finally you reached a point where you needed some assistance. This will come every once in a while, so don't be ashamed if you have to do it.
In order to be a do-it-yourselfer you don't have to do everything yourself. Make sure you know that it is cheaper to have a professional do something right the first time than to have somebody come in to fix a mess that you already made.
If after you've watched an instructional video online, you still don't feel comfortable doing the task on your own, then at that point, considering hiring a professional.  In most cases, though, you will likely be just fine doing it yourself once you've watched a step by step video or two.