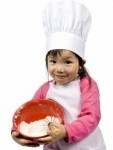 Have you ever noticed how the cookies you buy in grocery stores are not only expensive, but they aren't nearly as good as homemade?  Why not try baking your own instead?  They are not as expensive and it doesn't take that much of your time.
I have a weakness for peanut butter chocolate chip cookies.  So, once in a while I make them and it takes less than 10 minutes to mix the ingredients together to make the dough.  The next step is to form balls and place them on cookie sheets.  Flatten them with a fork and bake them in the oven at 325 degrees Fahrenheit for about 7 minutes.  All it takes is about a half hour of your time and you can enjoy freshly baked delicious cookies.  I've found they make a great snack for work when you are craving a chocolate bar.   Freshly baked cookies also make a great gift for a neighbor or friend!
In case you want to try out the recipe, here it is:
Peanut Butter Chocolate Chip Cookies
½ cup butter or margarine
½ cup peanut butter
½ cup white sugar
½ cup brown sugar
1 ½ cups flour
1 egg
1 tsp baking soda
1 tsp vanilla
1 cup chocolate chips
For more recipe ideas, no need to purchase a recipe book, just do a Google search for the type of recipes you are looking for and you can find all kinds of ideas for free.  Print out the ones you like and make your own recipe book.