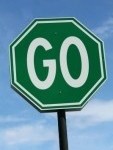 I can't emphasize enough the importance of creating savings goals.  Although I've written about this before, I thought I would jog your memory and have you think hard about what you want to achieve during your lifetime.  Once you've determined your life goals, the next step is to decide how soon you'd like to reach each goal, as well as how much money you are going to put aside each paycheck in order to achieve each goal.
To get you started, I am going to list examples of life goals that many people aim for.  Choose the ones that are most important to you and then we can move on to the next step.  Be creative.  There are so many things you can achieve with your unique gifts and talents.

Examples of Common Life Goals:
-Buy a house
-Start a business
-Pay off bad debts
-Travel
-Pay off your mortgage
-Retire rich
-Retire at an early age
-Get married
-Buy a car
-Build an emergency fund
-Renovate your home
-Take a leave of absence from work
-Buy a boat/snowmobile/recreation vehicle
-Buy a cottage or second home
-Invest in real estate
-Become self-employed
-Write a book
Now that you've done some brainstorming and have chosen some life goals that are important to you, the next step is to decide when you want to accomplish each goal.  Make sure that you set realistic goals with realistic timeframes.
After deciding on how soon you want to accomplish each goal, you need to determine how much each goal will cost you.  If you are planning on getting married, you need to decide how big of a wedding you can afford, and whether or not you can afford to go on a honeymoon.  If you want to pay down your mortgage in five years, you need to determine exactly what that will mean for you in terms of dollars and cents.  Is it feasible with your current savings budget?  If not, what expenses can you cut back on in order to achieve your goal?
You may find it easier if you use a chart to list your goals, their timeframes, and their cost to you.  For example:
Life Goal When I Want To Achieve It What It Will Cost Me
Renovate bathroom                        by September 2010                                              $8000.00
Build emergency fund                    by December 2010                                                $9000.00
Buy a newer vehicle                        by April 2011                                                          $10000.00
Once you have a good idea of what your life goals are and how soon you want to achieve them, you will find it a lot more motivating to save.  You can even set up different savings or investment accounts for each individual life goal and can refer to these accounts as your vacation account, car account, etc.  This gives saving your money a life of its own and will make you feel proud of yourself when you reach your targets.  Having well-defined goals will give you a clear focus in your money management and will allow you to track your progress.
Now that you know the amounts you need to save for your life goals, set up preauthorized payments from your bank account on the day you get paid to pay into each of your life goal savings and investment accounts.   It's important to pay yourself first, and the best day to start working towards your goals is today.