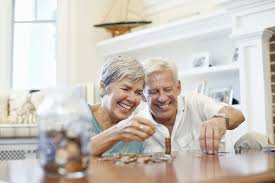 Seniors face more financial roadblocks than other age groups, and more people find it nearly impossible to save in their younger years. What this means for seniors is a low monthly income to survive on each month, combined with rising healthcare costs. It's more important than ever to make sound investments, but how can you do it in a way that's best for you?

The Financial Future
As we age, financial concerns become more prevalent. In addition to daily living expenses and bills, new concerns arise, like the cost of more frequent health care, the possibility of needing to pay for a caregiver, or even the need to move into a nursing home. Once you retire and no longer have a regular income, you may be required to work with a monthly budget that's only a fraction of what you once made.
According to a survey conducted by the National Council on Aging, 49% of seniors worry about their retirement income and savings not being enough to support them for the rest of their lives. It's a valid concern since the average monthly Social Security payment in 2014 was only $1,294. Fortunately, if you make sound decisions on investing when you're younger, you can create a more secure financial future for yourself.
According to Betterment, investment planning is most beneficial if you start doing it in your 20s. The younger an investor is, the more he'll have at retirement because he'll have more years of savings under his belt and will have built up interest for those extra years. Still, it's never too late to save, and even seniors without a plan can benefit from starting one.
Wise Investment Options
There are several investment options available, and although no investment is 100% safe, some are much safer than others. An ETF, or exchange traded fund, is one of the best and safest investment options for people who don't want to take a big risk with their money. ETFs are relatively inexpensive to purchase compared to other investment choices but are low-risk in that they operate much like stocks and you can buy as little as one share to reduce risk.
Seniors can also opt for a mutual fund, which professionals manage by diversifying your portfolio with a variety of stocks and bonds. These can be more expensive to start, but a professionally-managed portfolio can also yield you better results in a shorter amount of time than other investment options.