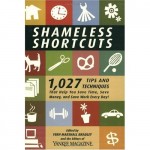 Shameless Shortcuts: 1,027 Tips and Techniques That Help You Save Time, Save Money, and Save Work Every Day! Edited by Fern Marshall Bradley and the Editors of Yankee Magazine
Most of us don't have a lot of extra time and money to waste, so when I heard about Shameless Shortcuts
I decided to check it out.  I am totally impressed with this book!  It's divided into 18 chapters each discussing a different theme. 
Examples of some themes include:
"Shop Smart, Shop Fast" , "Don't Forget To Exercise", "Going Places Without Going Crazy", "Managing the Morning Madness", "Great Garden Shortcuts", and "Hassle-Free Holidays All Year Round".
As you can see from some of the chapter titles above, the book discusses a wide range of topics compiled by experts from various fields.  There are some great tips for getting exercise, for cooking quick and healthy meals, for yard work and landscaping, and much more.  It's a must-read for anyone looking for ways to save time and money.
Here are just a few tips in this book to get you started:
-When shopping at a garage sale, don't act disinterested or you won't get the best price, because the seller won't know that you might be receptive to a better offer than the listed price.  Just tell the vendor what you are looking for and if they don't have it they may be able to steer you towards someone who does.
-If you are sick and tired of having to remove snow from your vehicle windshield, all you need to do is drape a heavy-duty garbage bag over your entire windshield and hold it in place by closing the front doors on the edges.  If you do this before every forecasted snowstorm you will never have to brush off your windshield again.
-Spray your dog's paws with cooking spray before taking your dog for a walk in the ice and snow.  It will provide a protective coating and keep snow and ice from accumulating between the toes.