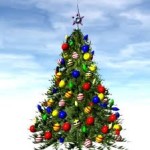 Many families have a preference as to whether they buy a real tree each year, or simply use the fake one they've had in their family for decades.
Although I really enjoy the smell of a real tree, I find that it gets really expensive if you have to buy a fresh one each year.  In order to save money, I recommend using a fake tree.  Even though it may cost more initially, the more seasons you use your fake tree, the less expensive the tree becomes.
In fact, you don't even need to spend an arm and a leg on a fake tree.  My husband and I found a cute 6 foot tall fake Christmas tree at Canadian Tire that looks great.  It's not very bulky but it does the job and it only cost us $55.  Not too bad, considering we could have easily spent just as much on a real tree that would only be good for one Christmas season.

If you are looking for ways to cut costs at Christmastime, then I would highly recommend the artificial tree route.  That way you know you have a Christmas tree every year and you won't have to worry about paying for it over and over like you would for a real tree.
There are other perks for using an artificial tree, too.  Real ones make a big mess and are more high maintenance.  They need a special stand to keep them from toppling, and the needles fall everywhere around your house.   As nice as the real deal can be, there are some disadvantages to buying a real tree that go beyond the extra cost.
It's so easy for us to get caught up in the hustle and bustle of Christmas and find ourselves spending way more money than we should.  This tip is just one of many ways you can cut costs at Christmas time without feeling the pinch.