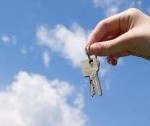 Renting can sometimes be more appealing than owning a home.  For the first two years of our marriage, my husband and I lived in a tiny apartment.  All we had to pay for was the electricity; everything else was included in the rent.  The only downer was that we felt like we were throwing away more than $7000 a year with nothing to show for it.
We decided to purchase a home in order to build equity as well as to have a place of our own with a small backyard.  We soon discovered that our expenses shot way up due to water bills, heating bills, maintenance, insurance, and property taxes.  Although our expenses increased, we at least had the sense of satisfaction in knowing that we were no longer "throwing away" our money to rent payments.  We also had a lot more space to enjoy.
Although home ownership has been a positive experience for us so far, it doesn't mean it's the best option for everyone at every life stage.  We definitely couldn't have afforded to own a home when we were first married, so renting was a sensible option for us.  There definitely is a time and a place for both renting and owning a home.

Yahoo! Finance recently had an article posted regarding the subject of home ownership versus renting.  It lists eleven reasons why some people choose to rent their home instead of buying.  The author suggests that it's possible that if you rent your net worth may be higher than if you own a home.
Another idea in the article is that if you think of your home as your primary investment, then you are not properly diversified, just as it would be inappropriate to invest in only one stock in the stock market.
For more thoughts on the advantages of renting versus buying a home, check out the Yahoo! article at this link.
If you are currently in the process of deciding between buying a home versus continuing to rent, I would recommend sitting down and creating an estimated budget of the projected costs of owning a home.  I would also recommend that you don't consider your home as your sole investment.  It's important to make sure that you are putting money away for retirement as well as for a rainy day in addition to building equity in your home.  Always remember, you can't eat your house, so it's important that you can well afford it before you commit to buying it.