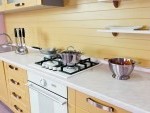 After a while, your kitchen can start to get a little lackluster. All those years of opening cabinets, cooking and spending time with your friends and family, can have your kitchen looking slightly neglected. Worse still, peeling paint, chipped wood, grease stains and a dripping faucet can start to get you feeling down. And kitchen repair costs can be expensive, time consuming and a headache. However, fixing up your kitchen doesn't mean you have to spend a fortune or a lot of time. Luckily, there are a lot of ways to get your kitchen looking new again, without spending a small fortune or taking a week off work. Here are some simple and affordable kitchen remodeling ideas that won't break the bank or fill up your calendar.
One of the easiest ways to spruce up your kitchen is to add a personal touch. This can mean painting the walls and the cabinets, or getting a little creative. If your cabinet knobs or handles are getting a little boring, you can replace them with old pieces of tools or you can custom make them with wood. You can also go to a junk shop or thrift store to look for vintage and antique kitchen details, like old jars to keep spices and dry goods. And old rusted pots and pans might not seem entirely utilitarian, but they might look great on your wall. Sometimes, remodeling your kitchen is all about maximizing the aesthetic capabilities of your walls.

Also, if your cabinetry is looking a little tired and old, you can always repaint. A simple paint job can be an easy and affordable way to liven up your kitchen cabinets. You can also get a little inspired and use chalkboard paint to turn your kitchen into a blank canvas. Painting your kitchen with chalkboard paint is also a smart way to label your kitchen so no one ever has to ask you where anything is ever again. It's also great for kids who have a habit of drawing on the walls.
And if your kitchen floor is looking a little ragged, one of the easiest fixes is to buy large rubber mats. Re-flooring your kitchen with tiles or linoleum can really start to add up, especially if you hire a contractor. If you want to work within your budget and not spend a lot of time working on your floor, rubber matting is a great option. It also gives it an interesting, industrial look that all your friends will be asking you about.
Lastly, fixing your counter tops can really put you way above your budget. However, there are a lot of alternatives that will save you money and give your kitchen a great new look. Most people don't know this, but using concrete to create your counter tops can cut down costs by a significant amount. If you take the right measurements, you can find a local company to mix the cement for you and pour the mold. Just pick it up yourself and install, and you are looking at a brand new, beautiful kitchen.