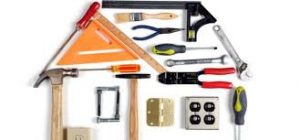 If you are a home owner, then you definitely know how much sacrifice and dedication is required when purchasing a home. Although you may have successfully passed this hurdle, daily home maintenance can easily become a huge expense for you and your family.
However with the right expertise and equipment, you can easily do most minor maintenance activities on your own, thereby saving both time and money. So, if you have been searching for the right equipment to get the job done, here are a few items which will come in handy when carrying out most home repairs and maintenance activities.
Lawn mowers
Lawn mowing is a common childhood chore which most kids dread. In view of this, some people have opted to hire landscaping companies to mow their lawns. This may save you the extra time and hustle; however the additional costs can quickly pile up. By purchasing a lawn mower, you'll not only reduce your maintenance costs, but it can also act as a great workout on a hot summer afternoon!

Nail guns
If you have any stray planks on your wooden porch, this amazing piece of machinery can easily solve your problem. Unlike your usual hammer, nail guns act with great precision and efficiency thereby minimizing the possibility of injury. By purchasing a high quality nail gun, you'll rarely have to hire a handy man thereby cutting down on maintenance costs.
Screwdrivers
This simple hand tool is an essential part of any toolbox. Try and purchase at least two sizes of screwdrivers in order to accommodate different types of screws. These tools are very useful when fixing cabinets and other equipment or furniture that contains screws.
Ladders or scaffolding
When it comes to accessing super high ceilings and attics, stools and chairs simply won't do the trick. Not only is it dangerous to stand on furniture and other makeshift surfaces, but it also lowers your concentration as you try to balance on these unstable platforms.
Buying a top quality ladder is indeed a worthy investment since it can be used in various situations. From hedge trimming to light bulb fixing, you'll definitely be glad that you purchased a stable access platform for your home. This will enable you to safely carry out home repairs hence you won't have to hire additional help.
Shovels
Shovels are very useful when carrying out outdoor maintenance activities. Due to high landscaping costs, many people are opting to do their own gardening. This is a great initiative as it will tremendously reduce your maintenance costs while providing a leisurely pastime which you can enjoy with friends and family.
You can also use your shovel to clear snow from your driveway during winter. This also prevents you from hiring additional help, which will mean extra costs. Make sure that your shovel is made of a strong and durable material which can withstand different loads without breaking or bending over.
About The Author
Adam Michaels is a construction expert having worked in several home and office renovation projects. He is passionate about teaching people how to maintain their homes using the correct tools and techniques.