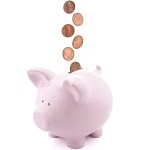 As a mom, I know all about trying to save money when you can. It can be hard, though – there is always something that needs to be bought! However, I love to help people find ways to maximize their budget, and make savings where they can. These are my ideas to help you save on certain areas of your life.
Save on… Online Shopping
Shopping around online can often save you money. It is easier to find competitively priced goods, and you don't even have to leave the comfort of your own home. Many of my readers love to shop with coupons and think that they can save money on their purchases by using coupons in high-street stores. For me, it can be a lot of hassle looking for and remembering which coupons I have. I recently used an online program that works in a similar way if you want to shop online. Once you download the programme onto your computer, it will browse the internet for coupons that apply to the website you are on. It will then apply them to your shopping basket, helping you to save money.

Save on… Bills
Many people wrack up large electricity and water bills simply because they aren't careful with their usage. It is really easy to take simple steps to cut your energy usage, and in turn cut your bills too. Stop leaving the tap on when you brush your teeth. Don't leave lights on in multiple rooms that are being unused. Stop leaving your cell phone charger plugged in even after it has stopped charging. Putting an end to all of these things will help lower the cost of your electricity and water bill.
Save on… Hotels
Going on vacation doesn't necessarily have to cost the world. There are many ways to cut your accommodation costs when you travel. One of my favourite methods is to use Airbnb. Rather than staying at a traditional hotel, someone will rent out their home for you. You have the choice of renting just one room, or the whole house (if you prefer privacy). The properties are serviced and cleaned like a hotel would be, but they often end up costing you less. Also, make sure you book early to avoid disappointment and to get the best prices. The closer you get to your date of travel, the higher the prices will rise.
Save on… Travel
As a parent, I know it isn't always realistic to be flexible when you travel. But if you can pick and choose the dates and times you travel, you will be able to find the lowest prices. Flying midweek is a lot cheaper than flying on a weekend too. Clear your browser cookies after you have looked for a flight. If you don't, websites sometimes remember that you have visited previously and searched for the same flights. They will then add more money onto the price to scare you into booking quickly.
Save on… Getting Fit.
Forking out for an expensive gym membership can set you back a lot. Try my suggestions on how to get fit and save money.