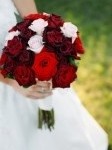 Weddings are very expensive occasions, and saving money becomes a challenge. As you look at dresses and decorations, churches and dance halls the dollar signs get larger and larger. Everyone wants to find ways to save a bit of money without cutting too many corners on their wedding. Flowers are one way you can change the amount you will have to spend without sacrificing the beauty.
Some people go to extremes with trying to save money by opting for no flowers at all. If you aren't ready for that big of a sacrifice there are other options to save money. A new trend is to have a single flower instead of a traditional bouquet. Having only one flower does have a bit of romance especially when the bride carries a calla lily which is a very elegant flower. If it is hard for the bride to give up the full bouquet a single flower could be given to each bridesmaid.

Once the wedding is over and you move on to the reception the bridesmaids could put their single flowers in a vase to use as a bouquet for the table setting. Silk flowers are another less expensive way to go. You can get them in advance and store until the wedding. After the wedding the silk flowers can be given away or put in flower arrangements to decorate your home.
Another way to save on flowers is to use what flowers are in season but then you may need to be a bit more flexible on your decorations. The grocery store and farmers markets are a good way to get a lot of flowers for little money. Grocers buy flowers in bulk making them cheaper and farmers market is fresh but may lack in selection.
When doing the centerpieces for the tables you could also consider houseplants, if they are healthy and arrange right they would look very nice. The houseplants could then be raffled off at each table and sent home with the lucky winner.
Another way to save on flowers is to have the wedding in a park. You wouldn't need to have many flowers since you could pick a garden area for the wedding. Then you would have the beauty of the flowers without the price.
There are so many different ways to save money on flowers at your wedding. Although they are beautiful at any wedding people who attend rarely remember the flowers. When asked guests may remember your dress or the vows or the ring bearer. So when considering the price spent on flowers remember that the flowers are only a part of the wedding decorations. The guests and the groom will all be looking at you so maybe you can spend less on the flowers and splurge on your dress and hair!