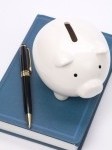 Do you hope that your children will one day get a post secondary education?  Are you planning on helping them out with funding at least part of it?  If so, I would highly recommend that you begin saving now.  For Canadians, a Registered Education Savings Plan (RESP) is a good option.
When you contribute to an RESP, the Canadian government will provide grants and bonds that will aid you in helping to save for your children's education.  Although your contributions to an RESP are not tax deductible, the earnings are tax sheltered until withdrawn and are taxable to your children at a much lower tax bracket.
The earlier you start saving, the better.  To illustrate this, let's imagine that you want to fund 4 years of post secondary education for your child.  Let's assume that in 2009 it costs $7000 per year for tuition, and that your child will begin university at age 18. Taking into account inflation, if you begin to save within an RESP when your child is first born, you will only need to tuck away $80 per month for 18 years. That works out to $17280 out of your pocket.
With the same scenario as above, if you begin to save when your child is 5, you will need to tuck away $122 each month for 13 years, which works out to $19032 out of your pocket.  If you start when your child is 10, it will cost $214 per month for 8 years, costing you $20544.  And, finally, if you wait until your child is 15 to begin saving, you would need to come up with $676 monthly for 3 years, which works out to $24336.  So, as you can see, the later you start saving, the more burdensome it will be and the more money will need to come out of your own pocket.
In a previous post I wrote about the importance of indexing your investment contributions to inflation, meaning that it's a good idea to increase your contributions by at least 3% each year.  The numbers below show the savings you could enjoy if you were to do so.
START AGE                       FIXED                  WITH 3% INCREASE/YR
0                                             $80                           $64
5                                             $122                         $103
10                                           $214                         $193
15                                           $676                         $656
The time to start saving for your children's education is now.  The sooner you begin, the easier and more manageable it will be to help your children to get a good start at a promising future.  For more information on RESPs, check out this link.