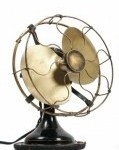 If you want to save money on your electricity bills as well as be environmentally friendly, there are a lot of creative ways to do just that.  Some good tips include buying energy efficient appliances, avoiding rinsing dishes before putting them into the dishwasher, and turning off fans, TVs, and computers when you are not using them.

Although it might be tempting to have your air conditioner on 24/7 during this hot summer season, consider using it only when absolutely necessary.  For example, first make sure you are wearing cool clothes, and avoid wearing socks.  Avoid using your oven.  Eat meals that will keep you cool such as cold noodle dishes, wraps, salads, sandwiches, etc.   For dessert, consider ice cream and popsicles.  Close your blinds so the sun has less effect on heating up your home, and only open your windows if it has cooled down outside. After doing all these things, if you're still uncomfortably hot, that's the best time to use your air conditioning.
When you do use your air conditioning, use a programmable thermostat so that it automatically shuts off at a specific temperature and then starts up again on its own as required.   Keep your air conditioning system maintained well and change the filter at least once a year.
For more tips on saving money on your electricity bills, check out "10 Ways To Save Money on Electricity Bills".
What are some ways that you keep cool during the summer?