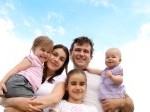 It's almost the end of the month; money is tight again and you've got to come up with ideas that will help you to save money as a family. Luckily, there are plenty of things you can do to achieve this. Here are a few great ideas you might want to make use of.
Cut Cost of Energy Bills
Perhaps the biggest and most frustrating cost you're going to encounter is energy bills. These are a regular expense that you're going to need to deal with. So it's vital that you look for ways to cut down on the cost of your energy bills. You can use plenty of techniques to achieve this. For a start, try to wrap up warm when it gets cold rather than putting the heating on. You may also want to consider solar power and making your home more energy efficient.

Let Don't Buy
When it comes to saving money as a family, you might need to think bigger. It's not always sustainable to hold down a mortgage. So you might want to wait to do this until your finances improve. So, in the meantime you need to look at alternative accommodation options. You should look at letting a home with Taylors. This will allow you to stay in a nice place. And you won't have the financial burden of being a homeowner to contend with.
Make Kids Aware
A good technique to help you save is to make the kids aware of your financial situation. You've got to understand that kids aren't always switched on to financial circumstances. So they will still expect you to be able to spend in the way you always have. If you fill them in on the situation, they'll be aware of your financial circumstances. This way they're going to be more understanding and supportive of you cutting costs where you can.
Have Family Fun on a Budget
You need to try to cut costs wherever you can, and one of the best areas to do this is family fun. It's important to spend quality time together as a family. You need to go and do things, socialize and have bonding time together. But you've also got to think about the fact that it costs to do these things. So you need to come up with ways to save yourself cash wherever possible. The good news is there is plenty of family fun to be had without breaking the bank. Consider taking a trip to the beach or having a picnic. Maybe you could visit some museums or go for a nice walk. These are all free activities the whole family can enjoy.
Only Buy Essentials
One of the best ways you can cut costs is to only buy essentials when you go food shopping. The temptation is there to buy luxury items. We all are guilty of doing it. And this is where all the money disappears to. You need to consider whether you really need to buy these luxury items. The answer will most likely be no. So think about this carefully and try to avoid spending on luxury things you don't need. Instead, you just want to stick with essential products that you know you need.
We all know these days it can be difficult to make ends meet financially. All families experience money problems at some point. And these days the cost of living is higher than ever, so it's even more difficult. Have a look at some of the ideas on this post and see if you can use them to save the family money.