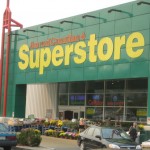 In the past I wrote an article about reasons that I shopped at Superstore for all of my groceries.  However, my opinion has now changed.  In the province where my husband and I previously resided, shopping at Superstore was the best choice for us as we took advantage of Superbucks that we received from the Superstore gas station and compared to other popular grocery stores, Superstore really was the cheapest alternative.
However, ever since we moved to a different Canadian province, I have found that Superstore is no longer the best option for us.  Instead, I have found much better prices at a wide variety of other stores, including No Frills, Food Basics, and Produce Depot, to name a few.
When we first moved, I did my shopping at Superstore and was very disappointed in the poor quality and limited variety of the produce.  The prices were much higher than I expected.  Sure, they had a few really low priced items and they still did have the freebies for those who spent a certain minimum, however, there just wasn't enough low priced items to make me want to shop there again.

When I compared the prices to stores like Food Basics, Superstore could not compete.  So, although Superstore may be the best choice in some Canadian provinces, it certainly isn't the best choice in all of them.  I learned that the hard way, but after shopping at Superstore for a couple of months and talking to locals, I learned how to stretch my grocery dollars by staying away from Superstore and shopping at other grocery stores instead.