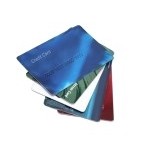 The season of resolutions is upon us, and one resolution we could all serve to make (and keep) is to cut down on our credit card missteps. After all, consumers are quickly racking up new credit card debt, which is the type of dangerous overleveraging that got us into deep you-know-what during the Great Recession. What's more, 41% of U.S. adults would give their personal finance knowledge a grade of "C" or worse, according to the National Foundation for Credit Counseling's 2011 Consumer Financial Literacy Survey. So, to help get this resolution started, here are 5 credit card mistakes that we can all excise from our lives during 2012:
1. Not having an open credit card in your own name
Whether or not you feel comfortable making purchases with a credit card is basically immaterial. Simply having a credit card under your own name (not as an authorized user) is the easiest way to add positive information to your major credit reports on a monthly basis, and this information will be relayed even if you lock your card away in a drawer. Since one's credit score is integral to getting the best loan terms, leasing a car, renting an apartment or getting certain jobs, this advice applies to pretty much everyone over the age of 18.
Wait, doesn't the new credit card law preclude people under the age of 21 from opening credit cards? Actually, no. Young people must simply ask a relative to be a co-signer or indicate on their application that they have sufficient assets/income to cover a credit card's monthly minimum payments (typically around $15 for newcomers).

2. Going overboard with rewards
What kind of rewards card should I get? I can't tell you how often I hear that, and a lot of the time I have to answer, "none." You should only focus on rewards if you have good credit or better AND pay your bill in full every month. If you don't have good credit, the rewards available to you won't be lucrative and you'll be better served getting a no annual fee credit card with which to build credit cost-effectively. If you don't pay your bill in full, a 0% interest rate will save you more money than rewards. Now, the 0% credit card or no annual fee card you get may very well offer rewards, but the point is that not everyone should make them a priority.
3. Adopting a pay-for-it-later mentality
As mentioned earlier, U.S. consumers are once again racking up the credit card debt. During the third quarter of 2011 alone, we garnered nearly $17 billion in new debt, completely erasing what remained of the almost $33 billion paid down during the first quarter. This Q3 2011 debt increase was 154% larger than that which occurred in Q3 2010 and 58% larger than the build-up in 2009. This trend merely underscores the notion that consumers have not yet internalized one of the Great Recession's main lessons: We need to spend within our means. Overleveraging – spending more than you bring in – can be sustained for a while but when interest starts to get unmanageable and/or the job market tanks, you can suddenly be in over your head.
4. Not knowing what "NPSL" really means
NPSL stands for No Preset Spending Limit, which does not mean that a card has no credit limit, contrary to popular opinion. Rather, cards with the NPSL feature have spending limits that are determined on a monthly basis and are neither communicated to consumers nor credit bureaus. That means if your card has this feature, big purchases might get declined at the point of sale and you might incur undeserved credit score damage via inaccurately high credit utilization. So which cards have NPSL? Oh, just some of the most popular credit cards and charge cards for excellent credit: Visa Signature credit cards, World MasterCard credit cards and American Express charge cards.
5. Buying from foreign-based merchants without the right card
According to Card Hub data, 90.2% of credit cards charge foreign transaction fees, which are typically 2% -3% of any purchase processed outside of the U.S. In order to avoid overpaying, you should therefore open a no foreign transaction fee credit card before traveling outside the country or making purchases through any foreign-based retailer. While more and more credit card companies are offering such cards – the list now includes American Express, Chase, and Citibank – Capital One and Discover are the only ones to not charge this fee on any of their credit card offerings.
About The Author
This article comes from the editorial department at Card Hub, a leading marketplace for secured and unsecured credit cards, prepaid debit cards, and gift cards.