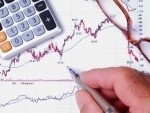 Dollar cost averaging is what you are doing when you contribute to your investments on a periodic basis such as monthly or biweekly, rather than putting down a one-time lump sum.  The advantage to dollar cost averaging is that you don't have to worry about "timing the market".  Instead, you buy units or shares when the market price is both high and low.  Over time, this results in a lower average unit price then if you made a lump sum contribution.
You may be doing this inadvertently but many sophisticated investors use this technique as well.  Dollar cost averaging helps you to have a positive perspective even when the markets are down, because it means that you are buying units at a cheaper price.  It's important to note, however, that dollar cost averaging is only helpful when you are investing for the long term.
If you are interested in learning more about dollar cost averaging, check out the article at this link.