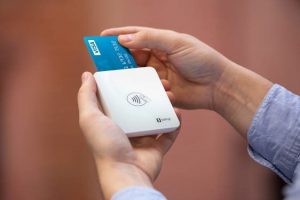 Are you a small business owner contemplating whether or not to accept credit card payments?  If so, I've outlined some of the benefits below that you should consider when making your decision.  Note that the perks of accepting credit card payments are for both your business as well as for your customers. And we all know that if the customers are happy, the business is more prone to be a continued success.

Times Are Changing
In the past it was nearly impossible for some small businesses to accept credit cards as credit card terminals were limited to being used at business locations only, which didn't work for types of businesses where the work is done offsite.
However, technology has advanced greatly in the past few years and there are options available which can allow mobile credit card payment processing using an EMV Card Reader, which is both fast and secure.  SumUp is one such company that provides this service.  Now that this technology is available to every business owner, the onus is on you to keep up with the times.
Benefit #1 – Convenient for Both Customers & Business Owners
Most customers these days carry plastic to make their payments.  Almost no one that I know carries cash anymore.  The most convenient way to pay for anything is to use a credit card.  Accepting credit card payments is convenient for you as the business owner as well, because you will find that customers are more readily willing to pay you when you provide them with more options.  You will have fewer customers who have to run to the ATM to get cash, for example.
Benefit #2 – Increases Cash Flow For Your Small Business
If your small business experiences cash flow concerns because you are waiting to receive payments from customers, you will find that by offering your customers the option of paying by credit card, many more customers will be willing to pay you right away.  The result is that your cash flow concerns should be alleviated due to faster collection of earnings.
Benefit #3 – Reduces Bad Debt
The easier it is for your customers to pay you, the more likely it is that you will get paid.  For tradespeople who often send out invoices long after their work has been performed, they are far less likely to collect all of the money owed to them.  However, with the new technology created by SumUp and other companies, this no longer has to be their reality.  Instead, once their job is done, they can simply hand over a mobile card reader device to accept credit cards.  Bad debt will be a thing of the past.
Benefit #4 – Saves Business Owners Money
Every business exists to earn a profit, and despite paying the credit card payment processing fees, you will find that your business is still ahead of the game if you accept credit card payments.  You won't have to mail out nearly as many invoices as you did in the past, which will save postage expenses.  In addition, your business will be less prone to require borrowing funds at high interest rates because your timely receipt of payments will ensure adequate cash flow.
As you can see, there are many benefits to your small business if you decide to start accepting credit card payments.  Keep these, and other benefits in mind, when making your decision.