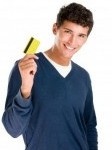 Rather than carrying a large sum of cash with you when you travel to the States, I would recommend that Canadians bring along a US dollar Mosaik Mastercard from Bank of Montreal (BMO).  When I compared all the major Canadian financial institutions to see what type of US dollar credit cards they offered, it seems that BMO has the best one.

I couldn't find any free US dollar credit cards, but the cheapest one I could find was through BMO.  The annual fee is $25 US, and you can add a second cardholder for free.  If you spend at least $1000 on your card, then the annual fee is waived for the following year.
Although you don't earn any reward points from using this card, there are still a lot of advantages.  The best thing about it is it is accepted almost everywhere in the States.  Second, it reduces the amount of cash you have to carry around.  Third, you have zero liability as you would with any regular Canadian credit card, so if someone defrauds you, you are protected. Fourth, the card is free if you are in the habit of spending at least $1000 US per year.  And fifth, you won't have to worry about any sort of exchange fees.
The card works for making US dollar purchases online as well, so even if you aren't planning on physically going to the States anytime soon, it could still be very handy for you.   Using this card has made our travels very easy.  Every week or so we check our BMO online banking to make sure everything looks correct, and we have signed up for paperless statements so we don't have to worry about our credit card numbers floating around in the mail.
So, if you are planning a trip to the States or just like to buy things on Ebay, check out the BMO US Dollar Mosaik Mastercard and enjoy your travels/shopping.