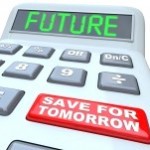 On the Service Canada website, there is a calculator that is quite interesting and eye-opening.  It takes you through a series of steps to help you to determine how much income you can expect during your retirement based on projections for Canada Pension (CPP), Old Age Security (OAS), and a number of other factors.

You start by entering your birth month and year as well as your gender.  You then continue on step by step answering various questions including information about your income, Registered Retirement Savings Plan (RRSP) contributions, and so on.  Once you have answered the questions, it will give you a projection as to how much you can expect to earn every year during your retirement.  When I punched in my information, it was based on a life expectancy of 83 years.  After going through this exercise it is obvious that I will have to put a lot more money away in RRSPs  and other investments if I expect to live comfortably in retirement.
I would recommend that you check out this tool if you are curious as to how much you will be receiving during your retirement by saving at your current level.  You may need to bump up your savings as well.  They say ignorance is bliss, but I would much rather be well informed, especially when it comes to aspects affecting my future.   Check out the tool today by clicking here.