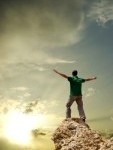 The importance of money in our life can't be underestimated. It's a necessity that helps us just live; buy food and clothes, move from place to place, enjoy different entertainment; travel and participate in numerous activities which all become possible once you have money at your hand. Aside from those factors which are strictly needed, there exist a lot of many other features that give flavour to our life making it rather colourful and enchanting, and even more stress the role of financial freedom.
The following tips will help you understand what I mean by saying financial freedom and what money can give you.
Freedom of Actions
The first and for me the most essential advantage of earning money is the freedom that it can give. This firstly refers to the freedom of actions. You can freely spend your money wherever and whenever you want without asking anyone. It is just a good feeling to have your own money and not to depend on others.

Once you have much money and can afford travelling you can easily visit all the remarkable places in the world, discover new and magnificent places for you, see such buildings and works of art that you couldn't even imagine. Each time you feel the exhilaration of travelling you will more and more appreciate and love money.
Comfortable Life
You need a lot of money to live in the favourable conditions you have ever wished. Each type of comfort costs money and especially these days when prices increase you need more cash to surround yourself with your desired comfort. Once you have money you can easily buy the house you think most suitable for you, buy a new car about which you have dreamt so long, go to different interesting places of art and entertainment, go shopping and amply buy everything you need without a little worry that you will be short of money.
Power
Money is a powerful means of controlling and having a deep impact on people. Once you want someone to do something for you there is no need to be a politician to tell him what to do by force or threat. You just can offer money and the task will be done. Money is perhaps the only reason that people are ready to do mostly anything. And what is important to note is that this phenomenon is not something appeared in present days. Money has served for this very purpose since its creation. Without money, you would have no supremacy, no might and no power.
You can influence people also by your thoughts, opinion and behavior. Once you have money your opinions become valuable for others. They will pay attention to your words perhaps to see how and what you did to earn so much money. You will be considered clever, successful, purposeful and motivated, and each your thought will be taken for granted. Let's take Warren Buffet as a vivid example, if he was a penniless and lazy person nobody would care about his opinions and give importance to his quotes. This is the fact!
Fame
Here money again plays an irreplaceable role; it can open new ways and horizons for you to become a world known personality. Do you dream of becoming a superstar whose name will be spread through the world? Money! You need money! This is the first and primary factor you need to start. Surely, there is no doubt that the noticeable percent of your success depends on your talent and skills, but money is the basic factor you need to start. Though, there are cases which prove that only talent and hard work can take you higher and make you famous, I do not reject this absolutely, but one thing is obvious – money facilitates and makes that path easily attainable and much smoother to pass and reach your desired result.
Business
Among numerous advantages this is the most crucial, since the other factors depend on this one; if you have a successful business there won't be grave financial problems. But again, in order to start your own business you need money. You can have the most creative ideas in the world but without money your plans will remain unrealized and you can't even convince people to help you.
The main principle of having a lot of money is "spend less than you make". Only in this way you can grow fortune. Otherwise, you will get stuck in debts. People who spend their money on anything they want at that moment or what crosses their mind can hardly make a fortune. Especially in our days when prices go up and up you need to think of your fortune even more.
The only thing that will help you reach your desired financial freedom is to start working right now. The sooner you start, the closer the time to realize your ambition.
About The Author
Anahit is an experienced financial writer whose skills, expertise and temptation to write help her each time give birth to a new piece of work conveying different aspects of finance. You can read about different branches of finance in her articles, ranging from Personal Money Management tips to more complicated levels, like Forex, CFD and Portfolio trading.