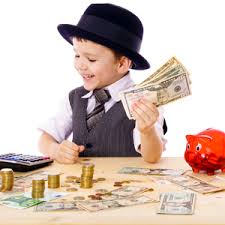 Many of our habits develop in childhood and therefore it makes sound sense to try and instill some good financial habits into our children at an early age, so that they are more financially prepared to cope when they become adults.
It often starts out with pocket money and if you have a few kids you will often notice that their different personalities include a varied attitude towards money, from spending without any concept of value to saving every bit of money they get, and everything between those two extremes.

Teaching economics, business and finance to kids is going to give them some important life skills and allow them to understand the basics of how personal finances and all money matters work.
Business and finance does not have to be boring for kids if you present it in the right way and if you manage to give them a good grounding on a wide variety of financial topics, but in a fun and interesting way, there is a much better chance that your child will grow up to be far more confident and savvy about money and the role it plays in their adult life.
Our kids today are born into a digital age and many financial transactions are likely to be conducted online, so it makes perfect sense to teach them all about money, using a variety of online resources such as the ones put together by Alternative Investment Coach on their website.