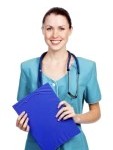 It wasn't so long ago that the flexibility of a business degree was enough to open all kinds of doors to a motivated graduate. But these days you not only need a major in business, but also a minor in communications, not to mention an emphasis in social media. And it couldn't hurt to have a second major in the industry you intend to enter, be it hospitality, video games, alternative energy, or whatever strikes your fancy. The point is that the job market has changed, and majors that were enjoying job growth even a decade ago have now become over-saturated. Just look at the field of graphic design. However, there are a number of majors you might select that stand to deliver not only lower than average unemployment rates (even in a recession), but also the potential for a livable salary.

One of the industries likely to enjoy the largest growth in jobs in the coming years is medicine, and there are a couple of reasons why. For one thing, it is predicted that over the next 10-20 years there will be a major shortage of qualified medical professionals across all strata of the industry, from nurses, doctors, and specialists to administrators. In addition, the large baby boomer segment of the population is entering the age of retirement and starting to face the many medical issues common to the senior demographic. This will mean a higher demand for medical care during a time that looks to see a marked drop in qualified professionals. As such, those who choose to enter the medical field over the next several years will likely realize excellent job stability as well as financial benefits.
Other industries currently on the rise include green energy and engineering. Green technologies in particular seem to be enjoying rapid growth thanks to the environmentally friendly stance of the current administration. This has been driven largely by President Obama's strategy to cut pollution and reduce American dependence on foreign oil. In fact, he supports a proposal to make a federal mandate by which a certain percentage of energy produced in this country would come from alternative sources (solar, wind, etc., and of course, new technologies) in the near future. This follows on the heels of California's law that requires a third of energy produced to meet this goal by 2020 (and several other states have passed similar initiatives). And Obama also worked with automakers to sign a deal that will ensure an average fuel efficiency rating of 54.5 mpg (across a company's vehicle lineup) by 2025. In short, green tech looks to provide a solid path for employment for the foreseeable future.
And engineering of all types is growing in popularity, although computer technologies should be of particular interest to current and future college students. With the world becoming more connected and countries across the globe seeking professionals with the ability to plan connected cities and create the technologies of tomorrow, engineering is a solid choice for job prospects and decent pay. While there will always be students seeking degrees in the fine arts or even going for a masters degree in social work online, the opportunities for such jobs in a recession are limited, to say the least, and there's no guarantee that they'll improve any time soon. So if your goal in attending college is to earn a degree that will land you a job, consider one of the fields listed above.