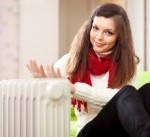 Utility bills can place a strain on your family's finances at the end of each month. Luckily, there are lots of things you can do to reduce your consumption. We'll do our best to highlight some great concepts that could help you to save hundreds of dollars every year. The basic rule of thumb is that you need to use less power when heating and running your property. However, there are some devices that could assist too. Just put the advice on this page into practice, and you should notice positive changes very quickly. When all's said and done, you could spend the money you save on more family holidays. Now, doesn't that sound good?
Heat one room at a time
There is no need to heat your entire home when everyone is sitting in the same room. So, make sure you switch some of your radiators off during the evening time. That will help you to save a lot of money over the course of twelve months. You can use electric blankets in your kids bedrooms if you think they might get cold. Just switch them on ten minutes before they plan to go to bed. Make sure you don't forget to turn them off as soon as your child gets under the covers. Electric blankets will use a lot of power if you keep them running for long periods of time.

Change your electricity supplier
There are lots of ways you can get cheap electricity for your family. Firstly, you need to use price comparison websites to find alternative suppliers that offer better deals. You could also opt for a prepaid meter to limit your spending further. At the end of the day, you will have to cut back on your usage, or you home will be without power. Once the electricity has run out a couple of times, your entire family will be more careful.
Make use of natural light
Some people might have to turn their lights on in the early evening because their homes are too dark. You could save a lot of money if you made changes that allow you to use more natural light. Maybe installing some large patio doors would make sense? Using glass instead of brick for a certain wall in your lounge will ensure it gets lots of sunlight. You could also think about changing the layout of your room.
As you can see, the process of saving money on your utility bills does not have to be complicated. You could make some amazing savings if you simply used the ideas on this page. Of course, there are lots of other ways you can lower the expense too. So, make sure you perform lots of research and work out the best solutions for your family. Failure to do that could mean you can never afford the finer things in life. Also, you'll take positive action that could help to save the planet. Everyone should try to reduce their consumption for that reason, and there is no time to waste.