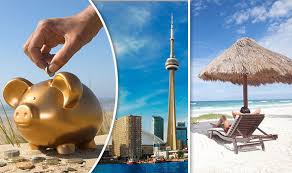 It's never too late to pack your bags and take a solo adventure to a new culture. Retirement may be a frugal time for many but there are plenty of ways to travel on a limited budget. Whether you're planning a European whistle stop tour or seeking a far flung paradise, with a little prior planning you can enjoy the holiday of a lifetime. Follow these steps and the rest of your retirement will be an adventure long after your leaving party at the office.
Reduce your outgoings
A few incremental lifestyle changes will make you a huge saving in the long term. Cut back on your expenses and you'll be surprised at how much you can save. Start by comparing all your monthly outgoings, including utilities, internet, home insurance and gym membership. Either cancel what's no longer needed or switch to a more affordable provider. You should also minimise eating out, use public transport less and quit any costly habits such as smoking. As your savings grow, you can begin planning your dream vacation.

Rent your home
For those planning a long term trip, why not rent or swap your home whilst you're out of the country? This can be beneficial as the rental income will likely pay a substantial way towards your hotel expenses. If you live in a sought after area it shouldn't be difficult to find short-term tenants. Be sure to discuss the implications with a reputable letting agency. They can take all the stress out of finding and managing potential occupants.
Avoid the hotspots
The most popular destinations are often the most expensive. Travel to lesser known regions for cheaper hotels, attractions and restaurants. Considering a Spanish beach holiday? Instead of choosing the Costa del Sol, try the autonomous community of Cantabria in the north. This beautiful region is immensely popular with the Spaniards and has lower levels of tourism than the more touristic parts of Spain. Take advantage of the tranquility to visit the charming villages and soak up the sun at a secluded bay.
Find the discounts
Most European countries offer senior citizen discounts on all kinds of things from bus fares to attractions and rail travel. Check your entitlements, prearrange any special travel cards before leaving and you could make a considerable saving. In France the Carte Senior Card offers anywhere up to 50% off travel and 40% of first class tickets. Similarly in Spain, the Tarjeta Dorada offers discounts for senior citizens, allowing you to traverse the country for half the cost. Many popular European attractions such as museums even offer free entry or reduced prices for senior citizens. Always ask a member of staff before paying full admission.
Use a rewards credit card 
Once you've saved for retirement, you'll no longer have to rely on credit cards. Don't stop using them altogether, however. Pay for all your travel expenses using a credit card, paying back in full when the bill arrives. This is a quick way to earn cash back on your purchases or receive travel related rewards which can be used on future trips. Hotel loyalty cards can also be a great way to save money when staying in the same hotel chain.
Purchase travel insurance
Never leave home without it. Planning for the unexpected can be even more important for those at retirement age. It should cover any medical costs whilst abroad providing peace of mind for those with health issues. Supplemental insurance plans can cover other potential threats and allow you to recover some of the lost costs if you have to cancel a trip due to medical purposes. 
With these simple tips, it couldn't be easier to turn your wanderlust dreams into a reality. If you're currently enjoying retirement and are thinking about travelling on your own, you could visit the website of companies like Saga Travel and see what packages they have to offer. You're sure to find something that suits you down to the ground.