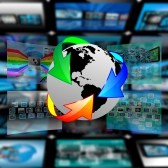 There are a lot of great Internet service providers out there, including Sky Broadband, and they all want your business.  Your job is to be a smart consumer and to select the one that will best meet your needs without costing you an arm and a leg.  But how do you do that?  Below are a few steps you can follow:
Research.
Well, for starters, you need to do a little research.  It won't take you too long, especially if you search for comparison websites that have already done a lot of the research for you and have compiled it in comparison charts so you can quickly and easily see the pros and cons of each service provider and package.
What to look for.
Once you've got your charts pulled up, pay close attention to the price, limits of use (if any), and what the additional perks are for the packages you are interested in.  Also make note of how much it costs to lease the modem or router.  You may also opt to buy one yourself and save money in the long run.  Also be sure to note whether or not there is a contract involved.  Can you cancel your services without penalty, or are you obligated for a certain period of time?  Ask about any added fees that you may find on your bill.  You don't want any surprises later.

Make the call.
It doesn't take long to find the service you are looking for, but you're not finished yet.  Make a list of anything that isn't clear on the website.  Compile all of your unanswered questions and have the list ready, so that after you think you've found the best package available in your area, you can give the company a call.  Ask the sales representative all of your questions, and make sure you jot down the answers so you have them for future reference.
Ask for a deal.
Make sure that you ask for a deal if you're not already getting one as a new customer.  If the company isn't offering discounts to new customers, they obviously don't want your business that badly, and this is your cue to move on to another internet service provider.
These are just a few tips to help you find the best Internet service provider.  There are more things to look out for, but these are a few things that are especially important to keep your eyes open for if you want to get the best deal possible on your broadband service.