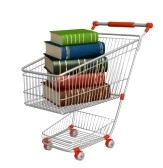 Making money selling anything is a good thing. If you have ever visited a yard sale, then you know that books are one of the most popular items there. What you need to understand is that a book is one of the best things to sell as there are always a good supply out there and they don't cost that much to get started.
So, if you want to start making money selling books, then I have the tips that you need. A lot of people don't understand that selling books doesn't have to be done at a yard sale or on Craigslist, the best place is Ebay. What I love about Ebay is that the price to ship a book is roughly half of what you normally pay and the cost to list them is usually free.   Below are some tips:
Buy Cheap Books – How many books do you plan on buying? If you want to buy 100 books to get you started, then I suggest paying as little as possible for these. What many people do to get started is they buy boxes of books from yard sales at maybe $2 a box. By doing this you can get books for less than .25 a piece.

Find Free Books – Not only should you buy cheap books, you need to find ways to get them for free. This is where I find that placing an ad for free books on Craigslist and in the newspaper is a great way to get them. Just know that not all books will be free, but the ones that are will give you much more profit than you could have ever dreamed of.
Under-Price Everything – I know how tough it can be to sell things for less than they are worth but the truth is that you can sell more and faster by doing this. What you need to make sure you do is stick to a certain percentage. For example, selling books for 80% of their value is a great way to start.
Always Be On The Lookout – If you are serious about making money, then you need to be on the lookout for different books all the time. Too many people only look for books when they are thinking about it, so make sure you always have this on your mind.
So, are you ready to make money selling books? If so, then head on down to your local Salvation Army or Goodwill and see what you can find.