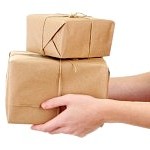 Courier insurance isn't cheap and, when you look at the risks faced by courier drivers every day, you can understand why insurance providers feel the need to make courier insurance premiums one of the highest motor insurance packages.
Transporting goods almost always comes with abiding to a very strict time schedule which can be cut very fine if the roads busy. This, along with many hours spent on the road with numerous stops and sometimes during the night, is why insurers consider courier drivers a high risk.
Fortunately, there are ways that courier drivers can cut the cost of their cover while still remaining fully protected when going about their daily work. It's well worth investigating different options if you're involved in a courier business in any way and more often than not it is in the smaller details that there are savings to be had.
Tips to save on courier insurance
Promote your good claims history: Courier insurance brokers are always pleased with drivers who have a clean driving record as they instantly know you can be considered less of a risk than a driver who has past convictions. If this fails to get you a small discount from the start, you become eligible for a courier No Claims Bonus after a few years if you remain accident-free and will be appropriately rewarded with discounted premiums.

Name your drivers: If extra drivers are added to your courier insurance policy so they're covered to drive the courier vehicle, it's worth adopting a Named Driver policy to save a few pounds. Under this policy, an additional two drivers are covered to drive the vehicle but they must provide the insurance provider with their names and driving history. Insurers view this as less of a risk than allowing anyone to drive the vehicle and it works out more cost-effective for you if these extra drivers have good driving records.
Pay monthly: In most cases with insurance, you have the option of paying an initial lump sum upfront to keep you covered for the following year, or you can pay a smaller amount each month for 12 months. Monthly payments can work out slightly more expensive than the initial cost, but are more practical in terms of when you can afford them. For courier drivers, being unable to pay an amount upfront means you won't be covered and therefore driving on the roads against the law if you do so. Paying each month means you maintain your cover and can continue working as normal.
Adopt a courier fleet policy: For those who run courier firms, it works out much cheaper to insure two or more vehicles under a single courier insurance policy than have individual insurance for each. This also means less documentation for you to worry about keeping safe. There are certain vehicles, however, that could single-handedly increase the cost of your courier cover such as those with a high mileage, so the final saving tip would be to insure these on a separate policy to that of your courier fleet.
For further advice on courier insurance discounts for both new and experienced courier drivers, visit InsureCourier today – we are recognized nationally for our efforts in researching the online markets on your behalf to find you the best deal on your courier insurance.