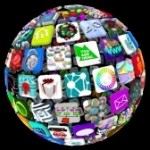 Open up your hand and take a close look at the gadget you are holding. In your hand lies more processing power than the largest IBM commercial computer in 1960. That computer took up more space than the average 1500 sq. ft. home. Not only could it not do a tenth of the sophisticated things modern cell phones do, current technology can do it a billion times faster and have up to a million times more memory available.

Technology has grown exponentially, and cell phones can take you places and let you see things that back in the sixties would have been considered impossible. You can get a date, lock up your house, take a picture, locate a friend, and deposit your paycheck just to mention a few. Last, but not least, your cell phone can even save you money while you do it!
There are thousands of applications (apps) available today, and weeding out all the nonessentials takes a very long time. Give the following apps a try before sifting through the half million plus apps in the app store. Best of all, these apps are free.
GasBuddy

Gasoline prices are off the charts. I have seen as much as 25 cents a gallon difference in gas prices just a block from each other. There are many independently owned stations. The corporate owned stations can sometimes beat the prices of the independents because of buying volume. This can be very confusing, and Gasbuddy gives you a heads up on what stations are charging in your area.
Driving out of the way, only to find the price higher can soon add up to quite a few dollars per year. This app will give you directions to the closest station with the best price in your area. That is not too shabby for a free app.
ShopSavvy
Shopsavvy is a neat little app that tells you where you can buy something for the best price. Any time you are out shopping around and see the barcode on an item, you can scan the barcode and Shopsavvy will tell you whether you can get a better deal somewhere else.
You can then order it from the better-priced location, or possibly pick it up. Watch out if you have to order it though. You know the old saying about "a bird in the hand is worth two in the bush." Sometimes, finding what you have been looking hard for is worth more than thinking you are going to save money when it doesn't show up until after you needed it.
Grocery iQ
This is a great app, especially for that gal with the husband that always seems to forget the box of Cheerios, but can always manage to remember the pretzels and beer. This app lets you scan the barcode right off the box and generate a list that you can email directly to your hubby before he grabs that case of beer. Chances are you will get him back with some or all of the goodies you need.
TheFind
TheFind is somewhat like Shopsavvy. If you scan the barcode, TheFind will locate the best prices online for you and what retailers in your area are carrying the item. Another nice feature is the coupons it will advise you are available and possibly get you a retail discount.
ShopLucky
ShopLucky lets you pick jewelry and clothing apparel of various types and find out where you can acquire them. You can even hold goods for pickup with this app. It also offers daily deals that can mean up to 50% off the editor's picks of the day. Jewelry can be pricey, and this app is pretty cool and still free.
GeoQpons
This app will allow you to search by store name. With this app in the local option, your GPS location drives it. You can receive instant time based discounts. This assures that you get the best deal available at the right time.
These apps are all free, so start downloading and begin saving money today! Didn't find what you were searching for? With today's prolific development, you just didn't search well enough or it will be there tomorrow!