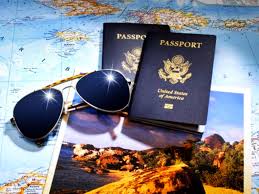 You can love travel, you can hate travel, but you can't completely avoid it. To attend family functions, to meet up with a distant relative or just to explore a new place; they all involve travel. Depending upon your budget and the purpose of your travels, you can choose national destinations as well as international destinations. It is totally your call.
For some people, traveling is fun; for some, it's an escape from their monotonous daily routine; for others, it is pure love. They can spend their life travelling. It sets them free, it gets them working and it gives them the adrenaline rush. Their thirst for travel isn't quenched that easily. They don't mind splurging on their travel plans; they make plans on the go. Impromptu plans are the best plans for them. They are always ready to tick a location off their bucket list.

On November 9, 2016, our Honorable Prime Minister Narendra Modi made the announcement that Rs. 500 and Rs. 1000 currency notes will cease to be a legal tender. In order to fight black money, which has floated in our economy, demonetization was planned and executed. It was a jaw-dropping moment for everybody. It dropped a major bomb on the travel plans of travelers. It is like you have money in your accounts, but you don't have the access to it. In the past, the withdrawal limit was merely Rs. 2500. Imagine the plight of the common man. As per the latest guidelines, you can now withdraw 10,000 rupees from your account. That is such a relief. The good news is you can execute those travel plans now.
Here are ten tips that will help you to travel after demonetization and save money:
Go Cashless
Spend your cash only if you don't have any other alternative to make payments. Thanks to demonetization, even small scale vendors are accepting other payment options like Paytm, FreeCharge, debit/credit cards, etc.
Also, it is not advisable to carry lots of cash when you travel because it can be stolen.
Install Wallets
Demonetization has worked in the favor of digital wallets. Install digital wallets on your phone for smooth payments. Recharge your wallet as per your requirements and then make payments hassle-free. Pharmacies, grocery stores, convenience stores, petrol pumps etc. accept wallet payments. Also, you can get amazing offers and discounts in the form of cash back; that is the icing on the cake.
You can choose from a variety of options like Paytm, Ola Money, Oxigen, PayUmoney, State Bank Buddy, Mobikwik, HDFC PayZapp, Citrus Pay, FreeCharge, and more.
Use Plastic Money
The after effects of demonetization won't hit you that hard if you make your payments with cards. You can make payments using your debit/credit cards as well. You are one swipe away from making your payment. It is easy, it is convenient and it is hassle- free. Different banks come up with exciting and interesting offers where you can earn points on your spending. These points can be redeemed. You are not just spending; you are saving also.
Buy Travel Insurance
Buying travel Insurance plans will save you from unexpected yet unavoidable costs that you may have to bear during your journey. Buying travel Insurance online can offer you amazing plans with a variety of options to choose from. It also ensures transparency; it is a cost saving method, as you don't have to pay a percentage of commission to any insurance agent because they're not involved at all.
Activate Your Internet Banking
It is an electronic mode of payment. You can easily make prepaid payments (like hotel booking, flight/train booking, holiday package booking) via NEFT. It is safe, secure and easy. It is high time, activate your internet banking and be a part of the cashless economy.
Plan Your Trip in Advance
Planning in advance will save you from a lot of trouble. When you plan things, you are proactive. You rule out the things that can go wrong and you take effective measures to make them right.
You can save a lot of money by planning your trip in advance.
Mix and Match Your Payment Options
There are no hard and fast rules when it comes to saving. Your objective should be to get the best savings you can. Stay updated with the latest discounts and offers. If there are more saving avenues in regard to wallets, go for it. If there is more saving when you pay with debit/credit card then go ahead with that option.
Compare and Choose the Best Option
If you want to save the most money, then compare – be it hotel bookings, flight/train bookings, cab bookings, and the list goes on. If you don't go through different options and instead just accept the first option you come across, you end up paying more. If you compare, chances are high that you will save money.
 Book Your Hotel Through Hotel Booking Apps
Hotel booking apps gives you amazing deals and offers. They offer you combo offers too. It is up to you to select the one that suits you the best.
 Delete Cookies and Cache from Your Browser
Never underestimate the power of cookies and cache to increase your hotel bills and flight bills. When you visit any website for booking hotel or flight, it gets stored in your system's memory how many times you have visited the website. Because of this reason, there is a hike in prices that are displayed on your screen. When you delete cookies and cache from your system, you get to see the genuine prices.
 Note- Never pay for online transactions or NEFT payments using a free Wi-Fi network. Your confidential data could be at risk and hackers might take advantage of your data. It is better to be safe than sorry.