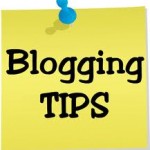 Blogging is one of the best ways to make money online and a lot of people are looking to get into it. Now, before you rush off and buy a domain name and think you are going to make millions from your blog I want to tell you some things.
The first thing you should know…
First, you won't make millions from your blog if you don't have millions of visitors. The problem that most blogs have is they only get a small amount of traffic. This is due to the fact that they are blogging about a very competitive niche, they are not taking advantage of SEO and search engine traffic and they don't know how to optimize their website correctly. This is a lot to take in for somebody that thought they just had to create a blog and the money would automatically start coming in.  However, there are some tricks that will help your blog to make money.

Tricks To Earning A Living With Your Blog
Get More Traffic – In order to make the most money from your blog you need to get more traffic. This may seem like an easy task but it definitely is not. What you must understand is that the more traffic you can get the higher your income will be. My advice is to focus on things like backlinks, creating content for long tail keywords and just stepping outside the box of a normal blog. By doing all of these things you will be able to get more traffic than you ever thought possible.
Increase Advertising – Another thing that you can do to increase your earnings from your blog is to increase your advertisers or the price they pay. Now, this is tough to do if you don't have any traffic, so you need to get traffic first. Once you have some traffic coming to your site you then need to see about finding some quality advertisers that you can use. A lot of companies look to pay for their advertising since they don't have time to build content and create backlinks.
Blog More – Lastly, you must blog as often as possible. If that means you are writing a new blog post twice a day, then so be it. You must blog as much as you can in order to increase your income. The truth is that the more blog posts you have that span across your entire topic, the more money you will make.
Passion Is Important But Not The End All Be All
In order to make a living from your blog you will need to do the things that I mentioned above. Don't make the mistake of thinking that you know everything already. A lot of people think that as long as they have a passion for their blog then they will make a good amount of money. Trust me, this is wrong because you don't need a passion, all you need is the ability to write.  Of course, it will be more enjoyable for you as the content writer, if you are passionate about the topic of your blog, so try to pick something you really are keen on learning more about.