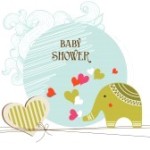 When your best friend announces that she is expecting, at first you will excited, but soon that excitement might turn into dread. Finding the right gift for a baby shower can be one of the most stressful experiences for the friend of a mother to be, because you want to purchase something that isn't too out of your budget, but is also meaningful. Fortunately, there are plenty of options – all you have to do is get a little creative and imaginative. If you think about it, things with sentimental value always last the longest, no matter how much it costs. Yet, putting the time and energy into finding a gift that is distinctive, but also inexpensive can be a challenge. Here are some unique and affordable gift ideas for a baby shower.
Every baby will need clothing. However, most babies grow out of their clothing in a matter of a couple of months. Also, most baby clothes can look cheap. A great option in this instance is to knit a sweater or make some booties on your own. Something homemade will look great and will have something more than just material value.
Another great gift can be something that benefits the mom of the baby during her first couple of months. If you run a business, offer a coupon or gift certificate for your services. This is especially great if you are a massage therapist, Pilate's instructor, or yoga teacher. You can also offer a certificate for something simple, like doing the laundry, cleaning the house or watching the baby when mom wants to get out of the house for a while.

If you really want to save money, but  still give a great gift, you can shop vintage or antique. There are plenty of strollers, carriages, stuffed animals and even clothing that you can find in a used vintage or antique shop. Most of the time, these things look far more fashionable and aesthetically pleasing than the products made today.
And if you are thinking of baby gifts and you want to get something that actually means something, you can make your own memory box or photo album. Sometimes getting a little crafty isn't necessarily a bad thing. Putting together something where someone can share and store memories is sure to be a much appreciated and long lasting gift.
Lastly, a great gift for any baby shower is a book. Children's books are easy to find, are full of imagination, and inexpensive. You can find many of these books at a used bookstore or a library sale. Oftentimes, finding old books makes them more one of a kind and thus have more sentimental value. Books are a great learning tool for children and will be immediately appreciated by any expecting mother.
Finding inexpensive and unique gifts for a baby shower doesn't have to be incredibly daunting. Finding the right gift is all about putting your imagination and resources together. Thinking about the basics and what will be the most meaningful will allow you to think outside the box, sometimes literally.